J-Pitch Seminars


Traveling Cinema: Issues in International Documentary
---
J-Pitch, a support program that promotes international co-productions of Japanese films, will present a series of seminars at the Yamagata International Documentary Film Festival 2009. Guest speakers will speak on contemporary themes relevant to documentary filmmaking and presentation that cross borders.
Dates: Oct. 9 (Fri), 11 (Sun) & 13 (Tue), 2009
Venue: Yamagata Citizens' Hall (Small Hall)
Admission: Free
Presented by: Ministry of Economy, Trade and Industry; J-Pitch / UniJapan
With the assistance of: Yamagata International Documentary Film Festival
What's J-Pitch?
Initiated by the Ministry of Economy, Trade and Industry and UniJapan, J-Pitch aims to support international co-productions of Japanese producers' film projects. Activities include (1) offering networking opportunities with overseas producers at international project markets, (2) supporting project development through workshops run by Japanese and non-Japanese advisors in Japan, and (3) hosting seminars on the legal and financial basics of international co-production.
---
DAY 1

Co-pros, Despite It All

Oct. 9 (Fri) 10:00–12:00

Kotani Ryota (Producer, NHK)


After his university years, which included a period of study in the Philippines, Kotani joined NHK in 1986. He worked in international news at the News Center, for the "Today's Close-up" program slot, and at the Hong Kong bureau before joining the Satellite Broadcasting Center. As producer he has opened new territory in television by developing innovative series for the HD channel, such as "Browsing the World's Towns," "The New Chinese," and "Tokyo Modern".
There was a time when co-pros simply meant providing financial investment. But this year's YIDFF program includes three films produced by Kotani Ryota, who travels to the world's documentary pitching forums to jointly develop projects, producing ten titles per year. Taking YIDFF International Competition film Japan: A Story of Love and Hate (Dir: Sean McAllister) as a case study, he will speak about the troubles he encountered in co-producing a Japanese project with a non-Japanese director, as well as the joys of collaborating internationally, "despite it all."
Reference films:
---
DAY 2

Translating Movies

Oct. 11 (Sun) 10:00–12:00

Abé Mark Nornes (Professor, University of Michigan)


Nornes teaches Asian cinema in the University of Michigan's Department of Screen Arts and Cultures and the Department of Asian Languages and Cultures. Author of Cinema Babel: Translating Global Cinema. He has coordinated programs for YIDFF, including "Media Wars: Then & Now" (1991). Other publications include Forest of Pressure: Ogawa Shinsuke and Postwar Japanese Documentary, and Japanese Documentary Film: The Meiji Era Through Hiroshima. He has spearheaded Kinema Club, a website devoted to the study of Japanese moving image media, and the Internet newsgroup Kinejapan. He has written English subtitles for Magino Village—A Tale (1986, Dir: Ogawa Shinsuke), Artists in Wonderland (1998, Dir: Sato Makoto), and other films.
Most filmmakers feel their film is unfinished until it has crossed national and linguistic borders. This crossing, as well as co-production itself, is only possible thanks to the translator. Through interpretation, subtitling, and dubbing, the translator becomes an unacknowledged co-producer and co-author: a shadow director. Despite this decisively creative role, the translator's remarkable power over filmmaking is largely ignored (and thus poorly paid). Nornes will share historical cases of co-production, interpretation, and post-production subtitling, including the vexing challenge of (abusively!) subtitling the heavy Niigata dialect for the Opening Film, Memories of Agano (Dir: Sato Makoto).
---
Reference film
OPENING FILM YIDFF 2009
Memories of Agano
("Aga no kioku")
---
JAPAN / 2004 / Japanese / Color / 16mm / 55 min / English subtitles

Director: Sato Makoto
Photography: Kobayashi Shigeru
Editing: Hata Takeshi
Sound, Sound Design: Kikuchi Nobuyuki
Music: Kyomaro
Producer: Yatabe Yoshihiko
Production Company, World Sales: Kasama Film
Co-Distribution: Bluebuck Films, P.O.P. Networks
Ten years after the acclaimed film Living on the River Agano, the film crew returns to Niigata. As the camera observes abandoned rice fields and hearths that have lost their masters, personal memories overlay the traces of those who are no more. Director Sato Makoto passed away on September 4, 2007, leaving behind six films and books that will continue to inspire filmmakers and viewers around the world.

Sato Makoto
Born in 1957 in Aomori, he discovered documentary film when he visited Minamata as a student and worked on Katori Naotaka's The Innocent Sea. His debut documentary, Living on the River Agano (1992), was the product of seven crew members living on location for three years, during which they attended YIDFF '91 to present a rough cut. Other films are Artists in Wonderland (1998), Self and Others (2000), Hanako (2001), and Out of Place: Memories of Edward Said (2005). He was head instructor at the Film School of Tokyo and professor at Kyoto University of Art and Design, as well as a prolific writer on cinema. His books include: The Horizons of Documentary Film—To Understand the World Critically (2001) and London Dozing (2004).
---
DAY 3

Legal Systems and Customs Regarding Film Subjects

Oct. 13 (Tue) 10:00–12:00

Carmen Cobos (Producer, Cobos Films)


Born in southern Spain, she studied social work and immigrated to the United Kingdom. After working for the BBC and several British production companies, she moved to the Netherlands in 1997 and started her own production company, Cobos Films BV, in 2001. She has worked with directors Heddy Honigmann (Forever, Oblivion), John Appel, and others, producing international documentaries. Recently she has also started to produce art-house feature films. She is a regular tutor for EDN (European Documentary Network) workshops.



---

Yamagami Tetsujiro (Producer, Siglo)


Established the production company Siglo in 1986 and has since produced 60 documentary films, including Artists in Wonderland (1998, Dir: Sato Makoto), Power and Terror: Noam Chomsky in Our Times (2002, Dir: John Junkerman), and Breaking the Silence (2009, Dir: Doi Toshikuni). Produced the highly acclaimed fiction feature film River With No Bridge (Dir: Higashi Yoichi) in 1992. He was awarded a Fujimoto Prize special mention as producer of Village of Dreams (1996, Dir: Higashi Yoichi), and the film won the Silver Bear at the Berlin International Film Festival. Hush! (2001, Dir: Hashiguchi Ryosuke) premiered at Cannes Film Festival's Director's Fortnight. Other feature productions include The Matsugane Potshot Affair (2006, Dir: Yamashita Nobuhiro), and All Around Us (2008, Dir: Hashiguchi Ryosuke). He was a consulting producer on Yasukuni.
Recent years have seen a rise in Japanese filmmakers filming overseas, and vice versa. How do relations between filmmaker and subject, the importance of the right to one's image, and rules about obtaining permission to film differ across countries and cultures? What are possible misunderstandings and disputes that may occur even when approaching subjects with a sincere attitude? Two producers from Europe and Japan, well experienced in co-pros, will speak from first-hand knowledge. Yasukuni (Dir: Li Ying), which became the focus of controversy upon its release, will be discussed as a case study.
---
Reference film


Yasukuni
---
JAPAN / 2007 / Japanese / Color / 35mm (1:1.85) / 123 min / English subtitles

Director: Li Ying
Photography: Hotta Yasuhiro, Li Ying
Editing: Oshige Yuji, Li Ying
Assistant Director: Nakamura Takayuki
Producers: Zhang Yunhui, Zhang Huijun, Hu Yun
Production Companies: Dragon Films, Beijing Film Academy's Youth Studio, Beijing Zhongkun Film
Distribution: Nine Entertainment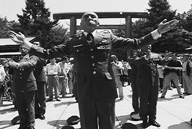 Chinese director Li Ying's controversial documentary on Yasukuni, the Japanese shrine commemorating the war dead. Yasukuni has been a focus of political and diplomatic contention in recent years, as among those enshrined at Yasukuni are World War II war criminals and citizens of Japan's colonies in Korea and Taiwan who were conscripted by Japan's imperial military. The film's 2008 Japanese first-run release was cancelled by Tokyo theaters that feared retribution from right-wing activists. The subsequent media attention allowed other independent cinemas across Japan to open their screens for the film. The film was released successfully in Korea and the USA.

Li Ying
Born in China in 1963, Li began directing documentary films for China Central Television (CCTV) in 1984. He came to Japan in 1989 to carry out research on principles of visual anthropology. In 1993, he co-founded Dragon Films in order to produce TV programs and films. Since then he has worked on films in both Japan and China. His filmography includes: 2H (1999, YIDFF '99), Flying Flying (2001), Dream Cuisine (2003), and Mona Lisa (2005).