YIDFF 2003 New Asian Currents
I Filmed As Part of the Family
---
Note: Ji Dan, producer and partner for Wellspring, also participated in this interview.
---
Q: The film wonderfully depicts the beauty of this family. What sequence of events led to the production of this work?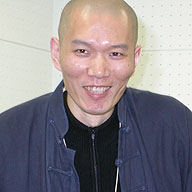 SQ: At first I was interested in filming a documentary about farmers living at the bottom rung of Chinese society, so I approached an organization doing research on the culture, arts and history in various areas and asked them for possible subjects. This family was one of the three or four families they introduced. I was looking for an artist among farmers. I was going to focus mainly on the father with his wonderful art of paper cutting, and film how he deals with his art while having a disabled child. But as I watched the circumstances of his son, I began wanting to focus on him. My interest shifted to the son's daily life of communicating with his family, expressing his emotions through his feet despite being disabled.
Q: This piece wouldn't be possible without a relationship of trust with the subjects of the documentary.
SQ: The relationship with the subjects began with settling in with the family and becoming friends. Then we spoke a lot about ourselves. Of course I also talked about what kind of person I am. As we made the film, I became part of the family. I thought it would take a while for the family to get used to the camera, so I started shooting as soon as I'd settled in. I didn't calculate when I would be able to film for real, but I thought I'd start filming for real right away, once they got used to the camera. This family was comfortable right away, so in total I spent about six months on shooting. During the filming there were some emotional times as well. I actually cried while filming the scene when the mother comes home. During the editing there were times when I cried by myself. But in the end, the finished work is a piece where I don't want the audience to cry. I don't want people to see only the suffering. I want people to see and feel what is behind the suffering.
Q: What are the two of you planning to produce after this?
SQ: This film festival has been a fortunate place, where we've encountered wonderful films and wonderful filmmakers. It feels like we've known the pinnacle of documentary film, with encounters like Wu Yii-feng from Taiwan and the film Flashback. I've realized my own work has so much farther to go, and in fact I'm in a mental state where I don't want to see my own work. Right now we're prepping for our next project and haven't actually begun filming, but we'd like to shoot something that expresses people's solitude in the midst of the rapid changes that China is going through. Our direction for filmmaking won't change, but moving forward we'd like to view this time as a departure point.
Ji Dan: His way of thinking is emotional, and in contrast I am rational. For example, my role in this work was thinking about what to do with the overall structure, or making suggestions about how to handle the climax. Also, he is not good at interacting with people, so I help to build relationships with the subjects, and I am bad at editing so he helps with that. I think it's a fortunate thing that even in production, we have a relationship where we support each other.
Q: If possible, can you tell us what has happened to the family?
Ji Dan: The child has miraculously recovered and is healthy. He has grown bigger. The mother is working at a nursing home in Beijing that we introduced her to. It seems like the family's financial circumstances have improved.
(Compiled by Endo Akiko)
Interviewers: Endo Akiko, Sato Akiko / Interpreter: Ji Dan
Photography: Yamazaki Ryo / Video: Sonobe Mamiko / 2003-10-13