YIDFF 2003 The 18th National Cultural Festival "YAMAGATA 2003" Documentary Festival
To Get to Like Japan
---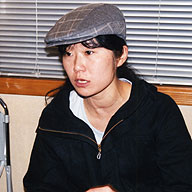 Q: Why did you make this film?
MS: I shot this work as an assignment at the Image Forum film school. Before filmmaking, I had spent my twenties doing two or three solo exhibitions every year, doing oil painting, sculpture and prints. But in my late twenties I was feeling stuck, and I found a flyer for the film school just as I was searching for something new. There are three assignments a year at Image Forum, and first I made an animation, second an Andy Warhole-esque work, and this was my third piece, a documentary. Like I said in the narration, I made a piece about rice because of unpleasant memories of my father bossily saying "give me white rice" when he'd come home drunk. I disliked both my parents and Japan as a country when I started shooting this piece. My parents were against my continuing painting, filmmaking and other kinds of expression, thinking that it's most important for women to get married and have children. Also, I admired foreign cultures and disliked the closed atmosphere (in cities) in Japan, and there was a time when I was always traveling to visit Japanese artists living in New York. But I realized I was only going half way, that I couldn't work as an artist overseas, so I started thinking I would create works in Japan and get to the point where I'd be invited to go abroad.
Q: You made the film so you could get to like Japan?
MS: I was wondering how I could get to like Japan, since I disliked Japan. I went crazy shooting Japanese images, like the National Diet building, fireworks, Yasukuni Shrine that got so much play on television, the Japanese flag that looks like a bowl of rice with a pickled Japanese apricot in the center, the Salvation Army collection pot I happened to come across when I went out to shoot. I included the burned out Shibuya landscape, from my father's experiences of the fire bombings while growing up in Shibuya. In between, I used a lot of different methods to shoot images of rice. It felt like it was difficult, and also like I was enjoying myself. A lot of different images appear, but I wanted people watching the piece to think about what they mean.
Q: There's a scene where you put a huge variety of ingredients on top of rice.
MS: I put pickled Japanese apricots, egg, seaweed and other toppings over the rice and shot it as an animation. I doesn't look tasty, but when I heard that a friend of a friend said they really eat like that, I thought "I did it! There really are strange people like that." At first I shot images of chopsticks stuck vertically into rice (done for funerals), but I decided to drop that scene since this is a film so I could get to like Japan.
Q: After finishing the work, have you begun to like Japan?
MS: Even now I'm in the process of getting to like Japan, but it made me notice that there were things I liked about Japan from the beginning. I've loved Ozu Yasujiro's films since high school, and now I'm working at a company that does kamakurabori (lacquered woodwork). I used to eat mostly bread but now I've started eating rice, and I'm not always thinking about traveling to countries outside Japan, aside from New York, where I have friends. I cut the scene, but during the shoot I yelled "Do you like Japan?" holding rice in Shibuya, and a middle-aged person replied "Yes, I do." My father's words were what made me want to do this film, but it's too bad that my parents still think it's unacceptable.
(Compiled by Kurokawa Michiko)
Interviewer: Kurokawa Michiko
Photography: Kurokawa Michiko / Video: Kurokawa Michiko / 2003-10-08 / in Tokyo

Manma Sachiko's website (Japanese)