Robert Kramer Retrospective
"Now," "Here," and "About the World,"—Robert Kramer
---
Robert Kramer participated twice in the Yamagata International Documentary Film Festival. At our first festival in 1989, his Route One/USA won the Mayor's Prize. He participated as a festival juror in 1997, a year which, because of the controversy surrounding mandatory cuts made to a Dutch film by Japanese customs, remains fresh in memory. Kramer quickly became central to the protest movement against this act of censorship. In 1989, his somewhat philosophical air and the sense of self-isolation this brought him made him seem to stand out and away from his surroundings. In drastic contrast, on his second visit to Yamagata in 1997 he interacted enthusiastically with young filmmakers, resulting in a new collaborative project with a young Japanese filmmaker. However, he died suddenly on November 10 1999, in Rouen, France, directly before completing his newest work, Cities of the Plain.
Straddling the divide between documentary and fiction, Kramer's films took a political and critical look at the essence of modern society. Kramer built a solid, unchanging ground as a filmmaker while groping for and showing us a world being made anew amidst the agony. This retrospective marks the first-ever comprehensive screening of Kramer's work in Japan. Our main directive from the very beginning was to show as many of Kramer's works as possible, but the search for prints and scripts turned out to be much more difficult than we had imagined at first. We were looking for works of high quality, but in the end we were forced to bow to that very real limitation called time. That said, we are delighted to be able to screen many of Kramer's works on new prints.
We also didn't want the retrospective to feel like "the same old thing," hence the addition of "Yamagata Doc's Kingdom," our special version of the "Doc's Kingdom" seminar (named after Kramer's Doc's Kingdom filmed in Portugal) held first in Serpa, Portugal. "Yamagata Doc's Kingdom" will be held in cooperation with Cinemateca Portuguesa and the Joris Ivens Foundation, with whom we cooperated on the Joris Ivens Retrospective at YIDFF '99.
The seminar will be a discussion on a grand scale featuring young filmmakers and school students congregating Yamagata. We will attempt to open a dialogue with the world shown to us through the lens of Robert Kramer, and explore the future of documentary. Also scheduled for guest appearances are Kramer's music coordinator and trusted collaborator Barre Phillips, and Erika Kramer, his widow and a frequent face in Kramer's films.
In closing, I would like to mention that this retrospective was only made possible through gracious cooperation of many people who shared with us the documents and materials which became the cornerstone of the program. We also made great use of the invaluable materials posted by Kramer's friends, associates and fans on the Internet. Finally, I would like to express my heartfelt thanks to Erika Kramer for her great help in finding materials, her healing e-mails whose boundless warmth always seems to envelop me, her willingness to act as a strong, stalwart pillar of this project and her gracious attendance as a guest.
—Ono Seiko, Coordinator of the Robert Kramer Retrospective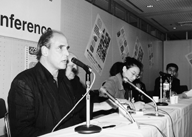 Robert Kramer arguing the customs controversy at YIDFF '97.
---