New Asian Currents
---
---
Jurors
[CHINA]
White Tower
---
CHINA / 2003 / Mandarin (Henan dialect) / Color / Video / 83 min

Directors, Photograghy, Editing, Producers: Su Qing, Mina
Sound Editor: Fan Chong
Techincal: Ka La
Translators: Tao Mu, Gao Ge
Source: Su Qing, Mina

Jian Ming is a middle-aged man living in Henan Province, which is said to have more deaf people than anywhere else in China. He's considering remarriage, and has feelings for Wong Rei, a deaf friend in her twenties. Wong Rei has a Taiwanese fiancé, approved of by her mother, but Jian Ming continues his friendly relationship with her nonetheless. Meddlesome friends give advice, talk of reconciliation with his former wife, and suddenly propose the possibility of an arranged marriage by a matchmaker. However, for Jian Ming everything seems to be out of step. As funny as it is sad, this human drama of love and marriage exposes hopeless male indecision and female power to take action. The vibrant exchanges in sign language fill the screen and create a dynamism faster than sonic velocity.
---
[Director's Statement] White Tower is the first documentary in China that focuses on the emotions and love life of the deaf. China's 20.57 million deaf individuals account for one-fifth of the world's deaf population, yet are misunderstood and estranged as "aliens."
Most deaf in China live on society's fringes in a disconnected, embarrassing, quiet and ignored world. We cannot see their life nor hear their voices. Their sadness and fear are virtually unknown. Their family members bully them and control their lives completely, making an independent life nearly impossible. Teenagers chase them throwing stones, and if they use sign language to communicate in public, they are immediately surrounded and gawked at. The discrimination even extends to the word "deaf" itself, which is often used to mean "thief" by many people. The best treatment they receive is unnecessary sympathy. Both in the family and in society, the deaf are considered weak and powerless in "speaking."
As their personal friends, we were permitted to record a deaf couple's most personal moments in order to give the public a chance to better understand their world. No additional explanation was added to the documentary; it was edited according to the development of their story. Whether it was sign language or spoken language, all forms of communication were treated equally in this documentary. We want to emphasize that we are equal as human beings, and that we face the same life and emotions.
Completing this documentary independently was very difficult, and we sincerely hope it will give others a better understanding of the deaf, help others to walk into their world, and perhaps even teach some sign language.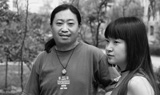 Su Qing
Born 1969 in Inner Mongolia, Su Qing now lives in Beijing as an independent filmmaker. In 1990, he graduated with a degree in railway design and worked as an art creator and editor at a Beijing advertising firm from 1995 to 1998. Between 1998 and 2002, he worked at a Beijing television and film production firm as its director producing The Melody of Striver. Since then, he has independently filmed White Tower (2003), winner of the Prix Premier and the Prize of the Cinema Research Group (Special Award) at the 15th FIDMarseille International Documentary Film Festival (2004), Old Tang and The Heirs of the Deaf.
---
Mina
Born 1973 in Chongqing, Mina graduated from Beijing Institute of Clothing Technology with a degree in art management. Beginning a career as a fashion designer and consultant, then as an art creator and customer account director at a Beijing advertising firm, she worked with Su Qing on White Tower before getting her MBA in arts management in 2004 at the Central Academy of Fine Arts, Beijing. She has recently filmed a documentary on the 2004 China International Gallery Exposition.