New Asian Currents
---
Jurors
Juror


Byun Young-joo
---

[Juror's Statement]
More than anything, I am very pleased to be visiting Yamagata again.
Like many young Asian directors, it was at Yamagata that I learned how to make documentaries. Now, as I continue to make not only documentaries but also fiction films, Yamagata represents for me the "film school" that gave me my diploma, and a starting point for my work. What makes me happier still is to be able to see new works from Asian directors in this very place, Yamagata.
It was after seeing a film by Ogawa Shinsuke, who lent his name to the New Asian Currents prize, that I learned that films are, at the end of the day, eternal messages that directors give to the people they love. In that sense, it is a great honor to be able to judge these, the "sincerest" of films.

Born in 1966, Byun holds an undergraduate degree in law from Ewha Women's University, and a master's degree in film from Jungang University. Our Children (1990) and Line of Battle (1991), produced by Bariteo, the women filmmakers' group started by Byun and her colleagues, were shown at YIDFF '91. A Woman Being in Asia (1993) was screened at YIDFF '93. Murmuring (1995), a documentary on former comfort women, won the Ogawa Shinsuke prize at YIDFF '95, and Byun went on to make Habitual Sadness (1997, a Special Invitation Film at YIDFF '97 and in competition at the 1998 Berlin International Film Festival) and My Own Breathing ("World Special Program," YIDFF '99). These were followed by the fiction films Ardor (2002) and Flying Boys (2004). Byun is currently working on her next film (scheduled for completion in summer 2008), which is based on a novel by Miyabe Miyuki.
---
My Own Breathing
---
KOREA / 1999 / Korean / Color / 35mm (1:1.33) / 77 min / Subtitled in Japanese

Director: Byun Young-joo
Photography: Byun Young-joo, Han Chong-gu
Editing: Park Gok-ji
Sound: Kim Woon-young
Producer: Shin Hye-eun
Production Company: Docu-Factory VISTA
Source: Pandora
World Sales: Mirovision Inc.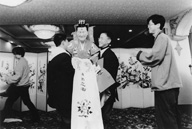 In both Murmuring and My Habitual Sadness, director Byun Young-joo has portrayed the community of those enslaved as "comfort women" by the Japanese army. Several of the women died in the time it took to make this, the last work in the trilogy. My Own Breathing is a "road movie" in which the surviving women join with the director who continues to focus on them in connecting the present and the past, as well as commemorating those women who have passed away. The camera captures visits to other survivors by Yi Yong-soo, who was taken to Taiwan by the Japanese army when she was 16, a journey interweaving the past experiences of the women. This then melds into a dialogue between the director and Kim Yoon-shim, who was taken to China when she was 13. When Byun interposes her camera between Kim, who became somewhat well known after publishing her diary, and Kim's daughter, we get a glimpse of the society of survivors who straddle the gap between the past and the present in which we live. It will leave the viewer feeling uneasy about the moment in which he or she lives.