Online
---
YIDFF 2021 Goes Online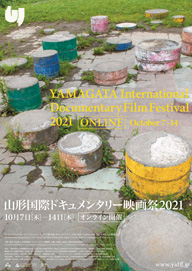 With a close eye on the spread of the coronavirus, preparations for the upcoming 17th edition of the Yamagata International Documentary Film Festival scheduled for October 2021 have been underway. We've been struggling in search of a safe way to host film screenings in the familiar physical spaces in Yamagata City, even if it meant running a smaller program. Now two months before the event, we recognize that there is no sign of the outbreak waning in Japan, and that although the vaccine roll-out is picking up pace, herd immunity will not be attained in October.
We have therefore decided to shift this year's YIDFF to an online space.
Despite the difficulties the pandemic posed to the world, we were pleased to receive 1,972 ambitious entries from around the world to YIDFF's two competition sections—International Competition and New Asian Currents. A varied lineup of unique and solid films was chosen through rigorous process by a qualified selection committee which included members of the local community. Moving the presentation of the films online is not the ideal viewing environment, but we anticipate that this expanded access will allow more audiences around Japan to watch these new international documentaries readily from the safety of their homes.
We are currently planning filmmaker Q&As, symposiums and various exchange programs designed to create a virtual space where festival participants can enjoy sharing time together. Yamagata Online will be a challenge for YIDFF, as one of our main goals has been to bring people and films, people and people together. Hopefully this year again, the film festival will again offer a memorable, if different experience.
---