Part 6

Sawato Midori's "Sawa-Talkie": Listening to Ah, My Hometown
---
Unfortunately, the film Mizoguchi Kenji shot in Yamagata, Ah, My Hometown—a title one seldom comes across even in film criticism or introductions to the director's work—no longer exists. Luckily, however, the version of Yoda Yoshikata's script published by Kinema Junpo can still be read today, allowing us to picture fragments of the film in our mind. One wonders how the streets of Yamagata appeared in the film, shot while Mizoguchi stayed at the Goto Matabei Inn, situated in the Hatago-machi of old, with not a trace of it remaining in what is now a parking lot for Yamagata Bank. At this year's festival, we'll listen carefully in the darkness to this lost film through the narration of Sawato Midori, one of the best contemporary benshi (narrators of silent films), and turn our thoughts to the Yamagata of that period. We call it a "Sawa-Talkie."
The story centers around a dreamer father and a daughter who excitedly looks forward to her wedding day. But with the hot springs hotel he runs in financial trouble, the father is desperate for money. The pregnant daughter dreams of life with her fiancé, but he has plans to go to America and study economics. What will happen to the daughter, Omiyo, who sheds bitter tears at what fate has brought her? Enjoy Ah, My Hometown, a film all but lost to the annals of cinema history, as it is narrated to the full with extraordinary enthusiasm and passion by Sawato Midori in her "Sawa-Talkie."
—Miyazawa Hiraku
---
Ah, My Hometown
("Aa Kokyo")
---
1938 / Japanese / B&W / 35mm / 64 min / not extant
Director: Mizoguchi Kenji
Original Story: Koide Hideo
Script: Yoda Yoshikata
Photography: Aoshima Junichiro
Assistant Photographer: Okazaki Kozo
Art Director: Mizutani Hiroshi
Cast: Kawazu Seizaburo (as Takino Shinkichi), Yamaji Fumiko (as Takemura Omiyo), Shimizu Masao (as Sakamoto Kazuo), Kato Seiichi (as Takemura Kinzo), Urabe Kumeko (as Otame, Takino's wife)
Production Company: Shinko Kinema
* This "Sawa-Talkie" performance of Ah, My Hometown is an adaptation of the original script.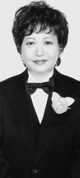 Benshi: Sawato Midori

Originally from Tokyo, Sawato graduated in philosophy from the Faculty of Letters at Hosei University, and studied under the late Matsuda Shunsui. As the heir to the traditional narrative art of katsuben, or silent film narration, she has revived it as contemporary entertainment, and has to date narrated over 500 silent films across a wide variety of genres. She received a Japan Film PEN Club Award in 1989, and an Award for Excellence in the field of Dramatic Performance at the Agency for Cultural Affairs Arts Festival in 2002. She has garnered high praise at her many overseas performances, including the 1988 Avignon Art Festival in France, the 1991 Voice Festival sponsored by the Rotterdam Arts Society in the Netherlands, and the 1994 Oberhausen Short Film Festival in Germany. Reportedly a huge movie buff herself, with an overwhelming passion for the works she narrates, her diverse range of voices stemming from precise interpretations of the work have won her many fans. She performs in Hayashi Kaizo's To Sleep So As to Dream (1985) and Circus Boys (1989), and is the author of A Silent-Film Narrator Around the World (2002, Tokyo Shinbun).