The Endurance and Future of 8mm Movies
Personal Focus 2007 Extras and
Fukuma Yoshio's Personal Focus Works
---
It is yet to be seen how many works this extra program—to be assembled at the last minute to stimulate demand even just a bit in order to prolong the lifetime of 8mm film—will attract by the September 30 deadline. Fresh new films will be screened, straight from the camera to you. This will be followed by a memorial screening of all of the works submitted over the past nineteen festivals by Fukuma Yoshio, one of the founders of Personal Focus, who passed away suddenly this June.
---
19 Works by Fukuma Yoshio
Yume no yukite
(1978)
Shimpu
(1979)
Shimpu—Sequel
(1980)
On a Shutter
(1982)
Danki
(1983)
First Sight of View
(1984)
Odessa
(1985)
Mimizu
(1986)
September Dust Mites
(1987)
Run! Akio '88
(1988)
Fukuoka Paradise
(1991)
Wakamizuya
(1993)
To Sakurai
(1994)
Fragile 42-Year-Old
(1996)
Hazukishui
(1997)
Sakurai's Move
(1998)
Plaza Hotel
(2000)
Room 415
(2001)
Pinholes and Teething Fever
(2003)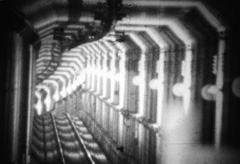 ---
Symposium:

Contemplating the Future of 8mm Film

While Fujifilm announced in January 2007 that it would continue to sell Single 8 film for another three to five years, production has stopped, and once the current supplies of film stock are exhausted, sales will come to an end. How can we increase the demand for film stock as a whole, including 16mm and 35mm as well as 8mm? What can we do to help 8mm film and digital video coexist? We hope to examine the possibility of an infrastructure that will keep film culture alive (the maintenance of a social-economic and production base), while at the same time getting a feel for the situation in fields such as business and education.
Panelists:

Miyata Yasuko

(8mm filmmaker, FMF chair)


Hatano Tetsuro

(film scholar)


Okubo Kenichi

(film critic; lecturer, Department of Moving Images and Performing Arts, Tama Art University)


Moderator:

Mizuyoshi Akira

(Director of the Society of Preserving Filmic Expression)