Juror


Asato Mari
---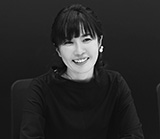 [Juror's Statement]
I've been sensing documentary in fiction films, and fiction films inside documentaries. I feel both kinds of film are, in essence, an expression of what the filmmaker's point of view is, what they believe human beings to be, and what they believe the world is. Each creator has their own world, and this infinite number of worlds makes them interesting. No, rather, we humans are fundamentally just projecting the world onto our own screens daily and moving image works are probably the conversion of that into creative material.
In my daily life, I watch documentaries as I am having dinner, and at bedtime. I don't know why, but it has been the pattern of my life for decades. Thus, when I write a script, the idea often comes from someone or something I saw in documentaries. When I explain my project to my crew and cast, I sometimes talk about what I saw in documentaries. It often seems easier for them to understand.
I always think that emotions that arise in an instant are so complex that they cannot be described in a single word. There is no such thing as a single emotion like "sad," "happy," or "fun."
That's the very first thing I tell my actors when I'm shooting a film or a TV drama: Do not put meaning into your acting, let your emotions out naturally when you talk to the person in front of you, you do not have to listen to my direction, you do not have to act the way you practiced in advance. And I shoot only once. When I do this, the atmosphere in front of the camera becomes so real that I can hardly breathe. That is what makes it so much fun. Especially in documentaries, you can see it in the faces of the non-professionals. Maybe that is what I'm looking for. I want to see a lot of documentaries. I want to see unexpcted face, emotions that cannot be described in a single word. As a juror, that is what I am really seeking.
What kind of films will be waiting for us? What moments await us? At what did the filmmakers point their cameras, and how did they capture the world? I want to see many moments that cannot be put into words. I have no doubt that I will find wonderful and unique works.
Asato Mari
Film director and Screenwriter. Born in Okinawa, Japan. While still a student at Yokohama National University she entered the Film School of Tokyo in its founding year, studying under filmmaker Kurosawa Kiyoshi, after which she studied under Kitano Takeshi at the graduate school of Tokyo University of the Arts. After working as an assistant director for Kurosawa and Shiota Akihiko, she made her feature film debut in 2004 with the action-comedy Girls for Independence, which depicted an Okinawan idol group working secretly for Okinawan independence. Since then, she has been active in film and in TV dramas. Her latest TV work We Are Just Not Divorced (2021) was remarked on for pushing the boundaries of TV drama. Her most recent film, Under Your Bed (2019), portrays a lonely guy and how his single-minded love for a woman leads him to hide under her bed and watch her daily life. It was selected for the London East Asian Film Festival and Nippon Connection Film Festival. Her other works include Bilocation (2014, selected for the Tokyo International Film Festival and Udine Far Eastern Film Festival), Zero: The Movie (2015, Stockholm International Film Festival), and Hyoka (2017, Bucheon International Fantastic Film Festival).