Juror


Mark Schilling
---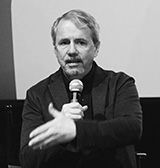 [Juror's Statement]
I had long wanted to go to the Yamagata International Documentary Film Festival, but for one reason or another didn't make it until the 15th edition in 2017, which in these pandemic times now feels like an eon ago. As a critic for The Japan Times I had often reviewed documentaries and interviewed their makers, but it was quite another experience to be in a crowded Yamagata restaurant at midnight sharing sake and views with Hara Kazuo and Adachi Masao, two legendary filmmakers who happened to be the festival's guests that year. That sort of frank and casual interchange, repeated night after night, is part of what makes Yamagata so special.
This year, unfortunately, the festival will not be able to hold a physical edition, but the other jurors and I will be able to discuss documentaries from all over the world, selected by one of the best documentary festivals around. For me good documentary films are more than didactic statements or social critiques: They give me windows into other ways of seeing, feeling and believing, presented with a strong point of view, but always aiming at the truth. And they tell stories that may shock or disturb, but also enlighten and even amuse.
Sennan Asbestos Disaster (2016), Hara's powerful and engaging documentary about a decades-long court battle by asbestos victims for compensation, was one such highlight for me that year. Of course, not everyone has to agree with Hara's methods or follow his example: There's no one right way to make a documentary.
In fact, a pleasure of being on a festival jury like Yamagata's is discovering new filmmakers with fresh approaches who follow their own vision, be it fiercely political or intimately personal, fueled by anger or laced with humor. And I'm looking forward to someday again experiencing the festival as it ought to be experienced, in person and in theaters, and revisiting that restaurant with filmmakers and fans. Let the sake and arguments flow.
Mark Schilling
Mark Schilling was born in Zanesville, Ohio in 1949 and graduated from the University of Michigan in 1971. A resident of Tokyo since 1975, Schilling has been reviewing Japanese films for The Japan Times since 1989 and reporting on the Japanese film industry since 1990, first for Screen International and presently for Variety. He has also written for many other publications including the Japan editions of Premiere and Vogue, The Japan Quarterly, Kinema Junpo, Nang and Film Comment. Schilling has been a program advisor for the Udine Far East Film Festival since 2000. Retrospectives he curated on the Nikkatsu Action genre (2005), Japanese musical films (2006), the films of the Shintoho studio (2010) and Japanese sci-fi films (2016) later toured North America in revised versions. Among his book publications are The Encyclopedia of Japanese Pop Culture (Weatherhill, 1997), Contemporary Japanese Film (Weatherhill, 1999), The Yakuza Movie Book – A Guide to Japanese Gangster Films (Stonebridge, 2003), No Borders, No Limits: Nikkatsu Action Cinema (FAB Press, 2007) and Art, Cult and Commerce: Japanese Cinema Since 2000 (Awai Books, 2019).