[KOREA]
Afternoon Landscape
---
KOREA / 2020 / Korean / Color / Digital File / 73 min

Director, Photography, Editing, Producer: Sohn Koo-yong
Performed by: Noh Seung-hyun
Music: Yu Tae-young
Drawing, Handwriting: Ham So-yeon
Source: Sohn Koo-yong
The landscape of a district in Seoul: the riverside, a mountain path, a street, a laundromat, a clothing store, a barbershop, a playground, a temple, an alley, a schoolyard, men digging holes for yard work, a park, women talking in a gazebo, a staircase, farm work in the fields, a café, children playing . . . hand-drawn pictures and words inserted in the intervals between them. A woman appears here and there, taking pictures and wandering around, resting on a bench. With no dialogue, the sound heard from beyond the frame leaves a distinct impression. By the director of Winter in Seoul (2018, YIDFF 2019).
---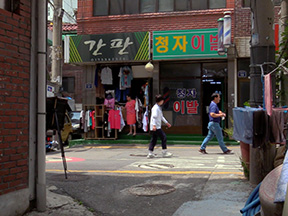 [Director's Statement] I have always had the desire to grasp what is being forgotten and lost—both personally and collectively—to cherish it for long enough so that something can be made out of it. Perhaps this is why I wanted this film to have a sense of innocence; and why it inevitably embodies nostalgia.

Sohn Koo-yong
Born in Seoul in 1988, Sohn Koo-yong studied media and communication at Hankuk University of Foreign Studies and filmmaking at the School of the Art Institute of Chicago. His first short film, A Walk (2017), was screened at Visions du Réel International Film Festival in 2018, and his second, Winter in Seoul, in New Asian Currents at YIDFF 2019. This is his debut feature, and he is currently working on a second, titled Night Walk.