[MYANMAR]
Broken
---
MYANMAR / 2021 / Burmese / Color / Digital File / 13 min

Director: Nan Khin San Win
Photography: Zau Myit Ding
Editing: Thae Zar Chi Khaing
Sound: Aik Yunn
Sound Design and Mix: Nan Khin San Win, Aik Yunn
Music: Kyaw Ko Ko
Source: Yangon Film School yangonfilmschool.org
The director and an older woman, both from a village in Kayah State, Myanmar, where conflict between armed groups and the national military persists. The women do not address each other directly, as if letting their words about undergoing suffering from sexual violence form its own response. Their inner voices and experiences seep quietly and powerfully into the forest, breaking the silence, as though the experience of all women has been lodged in their very bodies. As long as war continues, women live side-by-side with sexual violence, regardless of the era. Anyone can be burdened with wounds on their bodies and hearts. The director's father, who has lost a leg, also lives in this place.
---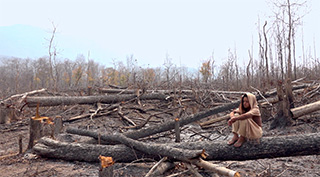 [Director's Statement] In the beginning, I wanted to make a film about how war-torn people and land mine victims are struggling with their lives. But after I saw deeper into the scene, I realized there are fewer stories about women who become victims of war and how they have been and are being abused by armed men and how they try to continue their difficult lives.

Nan Khin San Win
Born and raised in Bawlakhe Township, in Myanmar's Kayah State, Nan Khin San Win discovered her passion for filmmaking while taking part in a workshop run by Yangoon Film School alumni in the Kayan capital of Loikaw. "I want to reveal the many hidden stories in Kayah," she says of her decision to enroll at the school in 2020. Broken, in which she bravely examines her own biography, is the first documentary she has directed.