International Competition
---
Jurors
The Collaborator and His Family
Rechokim
---
USA, ISRAEL, FRANCE / 2011 / Hebrew, Arabic / Color / Blu-ray (SD) / 84 min

Directors, Photography: Ruthie Shatz, Adi Barash
Editing: Janus Billeskov Jansen
Music: Uri Frost
Producer: Ross Kauffman
Production Companies: Yulari Films, Fig Films
Co-production Companies: Red Light Films, Arte France, yes docu, ITVS, TV Ontario
World Sales: Deckert Distribution deckert-distribution.com
A father who has worked as a collaborator for Israel for years is forced to leave Palestine and takes his wife and five children to live in Tel Aviv. Although he has moved there to seek Israeli protection, he is not granted official permission to reside in the country, and his family have no choice but to lead an unremittingly precarious existence. Regarded as traitors in Palestine, and left to fend for themselves by Israel, their lives are buffeted by a series of incidents in this exciting family portrait.
---
[Director's Statement] In the dark alleyways of South Tel Aviv, among the migrants, prostitutes, junkies, and others forgotten by society, we found the tragic heart of our story. There, while filming Garden (2003), we met the children of a Palestinian collaborator, trying—and hopelessly failing—to blend in with their Jewish neighbors. Collaborators' children are a crucial illustration of the fallout of an unwinnable war—and the devastating damage it inflicts upon the next generation.
The El Akel family were promised protection by a government that has no will to see through its commitments to collaborators. As a result, most of them fall between the cracks: with no ID, no social support, and no education, collaborators and their families are cast out by a society that used them, only to later abandon them in dire need. By documenting the El Akels, who let our cameras into their home, we throw open a window on the lives of collaborators who somehow survive on the margins of society—exposing the terrible consequences of their betrayal at the hands of Israeli security forces.
Ours is a human interest story from a unique point of view: one man, his painful decision to cross the line, and the heavy price his whole family pays for this act of treason.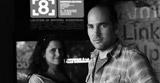 (From the left)
Ruthie Shatz, Adi Barash
Ruthie Shatz studied film at the JFC and graduated in 1998. Adi Barash studied film at the Camera Obscura School of Art, Tel Aviv, and graduated with honors in 1998. Their films include Diamonds and Rust (2001), Garden (2003, YIDFF 2005, the Award of Excellence in New Asian Currents), and Yuri Foreman (2009).
Barash and Shatz are currently in the post-production stage of The Healers, a six-part documentary series about the largest hospital in Tel Aviv. In addition to being a filmmaker, Shatz is a documentary-film consultant for film funds and independent film producers.