Map of Venues
---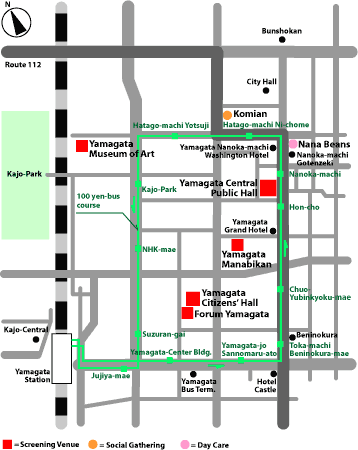 Map: Yamagata Institute of the Art (new window)
Yamagata Central Public Hall 6F
600 seats
Opening Ceremony, International Competition, Juror's Film, Special Invitation Films, Awards Ceremony, Awards Film Screening
Yamagata Citizens'Hall (Large Hall)
1,202 seats
International Competition, Juror's Film, Special Invitation Films, Cinema with Us, Awards Film Screening
Yamagata Citizens'Hall (Small Hall)
300 seats
New Docs Japan, Islands / I Lands, Special Invitation Films
Forum 3
162 seats
New Asian Currents, A Reunion of Taiwan and Japanese Filmmakers: 12 Years Later, YIDFF Network Special Screenings, Art Documentary Program
Forum 5
200 seats
New Asian Currents, Juror's Film
Forum 4
98 seats
Cinema with Us, A Reunion of Taiwan and Japanese Filmmakers: 12 Years Later
Yamagata Museum of Art 1
150 seats
Films about Yamagata, Special Invitation Films, Family Film and Animation Wonderland
Yamagata Museum of Art 2
150 seats
My Television
Yamagata Museum of Art 3F
Exhibition room 5

--

Symposium, art works exhibition
Yamagata Manabikan

--

Various screenings, event, workshop, and more
Yamagata Institute of the Art
60 seats
Art Documentary Program
Yamagata Manabikan
The former Yamagata 1st Elementary School, built in 1927 and registered as a tangible cultural asset, was reborn last year as the Yamagata Manabikan—Mono School. During the festival it will host screenings of works connected to Tsuchimoto Noriaki, Reviving Recipes related events, a film criticism workshop, screenings organized by Yamagata University, and screenings of Showa Housekeeping accompanied by talkshows. A theater for students will also be set up here.
---
Information Desk

Your gateway to the festival at Yamagata Central Public Hall (AZ Nanoka-machi) 1F: Get all the information you need in one place, from screening schedules to film descriptions.
---
Komian Club

A gathering place for festival guests and fans. This traditional Japanese restaurant in a renovated kura building will be the spot to socialize during Festival evenings. All are welcome!



•

Dates and Times: October 7 (Fri)–12(Wed) 22:00–2:00


•

Place: Komian Maruhachi


•

Admission: 500 yen (includes entry fee, one drink, and snacks)
---
Day Care Information

•

Childcare availability: October 7(Fri)–12(Wed) 9:00–16:00


•

Closed: Thursdays


•

Place: Nana Beans 5F


•

Cost: 500 yen for the first hour, 250 yen for each additional half-hour (Limit: 3 hours)


•

Ages: 6 months to preschool (6 years)


•

Advance registration is required. Contact us for details. Reservations and Questions -> Kosodate-Land Ahbe Phone: 023-615-1930


•

Present your Kosodate-Land Ahbe member cards at the Film Festival site Reception Desk. Advanced reservations required.