YIDFF 2017 Information
---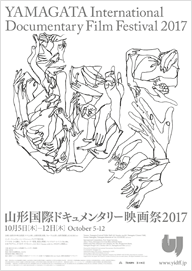 YIDFF 2017 in Numbers
Thank you very much for your support in making the YIDFF 2017 a success.
During the festival week from Oct 5 to 12, we screened 161 films in total, welcomed a total of 22,089 festival-goers, 191 festival guests, 304 press and industry people. We would like to express our heartfelt gratitude to everyone who attended from around Japan and abroad, as well as the many volunteers who lent their support.
The next edition of the YIDFF is scheduled for October 2019. We will announce the open call for YIDFF 2019 entries next year.
YIDFF 2017 Schedule
October 5 (Thu) –12 (Thu), 2017
Programs
Official Catalog
Interviews
Films
Jurors
---
Schedule
Services
---
Yamagata Rough Cut!
Call for Yamagata Rough Cut! Participants

(It has been closed)
Workshop
Join the Yamagata Film Criticism Workshop!

(It has been closed)
Volunteers
Entry
All film entries for YIDFF 2017 are now closed. Thank you to all who sent in submissions!
---
YIDFF 2017 Award Recipients
Prizes for the International Competition


New Asian Currents Awards


Citizens' Prize




------------------------------


Directors Guild of Japan Award

Jury Comments | About Prizes
YIDFF 2017 Facts and Figures
Total Films Shown: 161


Total Entries: 1,791 Films out of 128 Countries and Areas

Internatinal Competition
1,146 Films out of 121 Countries and Areas
New Asian Currents
645 Films out of 63 Countries and Areas


Attendance: 22,089


Guest: 191

Press: 304

Volunteers: 358