Festival Venues
---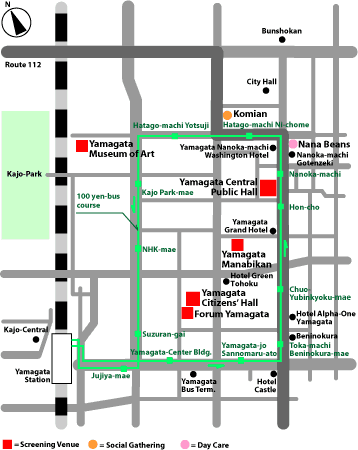 | | | |
| --- | --- | --- |
| Yamagata Central Public Hall 6F | 600 seats | Opening Ceremony, Yamagata and Film, International Competition, Juror's Film, Special Invitation Films, Awards Ceremony, Awards Film Screening |
| Yamagata Citizens'Hall (Large Hall) | 1,202 seats | International Competition, Juror's Film, Special Invitation Films, Yamagata and Film, YIDFF Network Special Screenings, Awards Film Screening |
| Yamagata Citizens'Hall (Small Hall) | 300 seats | Memories of the Future: Chris Marker's Travels and Trials |
| Forum 5 | 200 seats | New Asian Currents, Juror's Film, Special Invitation Films |
| Forum 3 | 162 seats | New Asian Currents, Perspectives Japan, YIDFF Network Special Screenings |
| Forum 4 | 98 seats | Another Side of the "Arab Spring," Perspectives Japan |
| Yamagata Museum of Art 1 | 150 seats | Cinema with Us, The Ethics Machine: Six Gazes of the Camera, Special Invitation Films |
| Yamagata Museum of Art 2 | 150 seats | Yamagata and Film, Cinema with Us |
| Yamagata Museum of Art 5 (3F) | 150 seats | Cinema with Us, The Ethics Machine: Six Gazes of the Camera, Yamagata and Film, Yamagata Rough Cut! |
| Yamagata Manabikan | 25 seats | Jurors' Films, Yamagata University Presents, Visual Anthropology Today |
---
Information Desk

Your gateway to the festival at Yamagata Central Public Hall (AZ Nanoka-machi) 1F: Get all the information you need in one place, from screening schedules to film descriptions.
---
Komian Club

A gathering place for festival guests and fans. This traditional Japanese restaurant in a renovated kura building will be the spot to socialize during Festival evenings. All are welcome!



•

Dates and Times: October 11 (Fri)–16 (Wed) 22:00–2:00


•

Place: Komian Maruhachi


•

Admission: 500 yen (includes entry fee, one drink, and snacks)
---
Day Care Information

•

Childcare availability: October 11 (Fri)–16 (Wed) 9:00–16:00


•

Place: Nana Beans 5F


•

Cost: 500 yen for the first hour, 250 yen for each additional half-hour (Limit: 3 hours)


•

Ages: 6 months to preschool (6 years)


•

Advance registration is required. Contact us for details.
  Kosodate-Land Ahbe Phone: 023-615-1930


•

Present your Kosodate-Land Ahbe member cards at the Film Festival site Reception Desk. Advanced reservations required.