New Asian Currents Special Invitation Film [CHINA]
A Filmless Festival
---
CHINA / 2015 / Chinese / Color, B&W / Blu-ray / 80 min

Director, Editing: Wang Wo
Photography: Diao Dingcheng, Diao Zhong, Chen Yao, Cong Feng, Geng Jun, Hu Lifu, Huang Xiang, Jia Nannan, Jian Shengda, Li Changhai, Li Peng, Liu Lei, Mo Mo, Teng Ye, Wang Wo, Xiang Longjie, Yao Yu
Source: Wang Wo
In 2014, the authorities shut down a film festival in Beijing immediately before it was to open. The film captures this tense time, including interference by plainclothes police officers posing as villagers, a search of the film festival office, and staff taken in for interrogation. Footage shot by many participating hands documents the private screenings and discussions held by directors and guests at the houses of Songzhuang artists, and the festival's "closing ceremony," in which people expressed their solidarity by posting pictures on social media of themselves with their eyes closed. The film becomes witness to what really happened.
---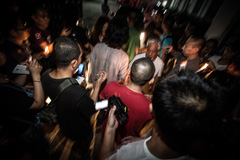 [Director's Statement] In August 2014, authorities brought the 11th Beijing Independent Film Festival to a halt. During this time, many of the guests as well as audience members and volunteer staff committed the period that followed the shut-down to video. The footage was collected and preserved as a record of the incident, and edited together into this film. The Beijing Independent Film Festival was a rare and crucial independent film festival. In recent years, non-governmental film festivals in China have been halted in succession, and since the shut down of this one, virtually none are left. Things have gone back to as they were more than ten years ago. The situation is regressing, no matter how one looks at it. Because of this, it was necessary to leave a record for posterity. The video and audio materials used in this work were all supplied by audience members, local artists, directors and guests participating in the film festival, staff, volunteers, reporters, and the media. This film was created through a group collaborative effort.

Wang Wo
Wang Wo was born in Handan, in Hebei Province in China. He received a bachelor's degree in graphic design from the Central Academy of Arts and Design, and received a masters in Arts and Design from Tsinghua University. He began making independent films and videos in 2001, and his works include Outside (2005), Noise (2007), Zhe Teng: According to China (2010), and The Dialogue (2014). He began teaching at the Li Xianting Film School in 2008, was an Artist-in-Residence and International Fellow at the Jacob Burns Film Center and Media Arts Lab in New York in 2012, and has been a visiting artist in the Cornell University Department of Performing and Media Arts since 2014.

Interview