Almost Ghost
(Yurei reel 1–6 soshuhen)
---
JAPAN / 2017 / Japanese / Color, B&W / 8mm / 80 min

Director: Onishi Kenji
Art Design: Yokoyama Hiroaki, Yasuda Satoru
Supported by Kawanaka Nobuhiro, Kurihara Mie, KEN
Source: Cinema Train
---
[Director's Statement] Films, as memories comprising both quality and quantity, pass through the camera obscura as sensations on the skin—moving through space and time, and as "elemental" events taking place before our eyes. My antique toy worked tirelessly to materialize this integrated and honest system into imagery. Doing away with the element of inconvenience, cinematographs have long ago transitioned into a new dimension. Being the warped individual I am, however, this film represents my own return to the material world that this device inhabits.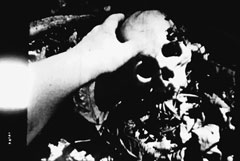 I returned to home movies for this compendium film, shot during the final year of my grandmother's life, beginning with footage of her garden. It is a documentary about gradually vanishing equipment collapsing and deteriorating, and also a document of those processes themselves. One of the charms of Super 8 film is its pungent odor. I wanted to see how far I could integrate this utter sourness as an element on the surface of the film. I continued filming while actually having no idea when the device might reach the end of its life. The experimental result of groping fingers leaving marks in the emulsion explored in the dark.

Onishi Kenji
Born in Mie Prefecture in 1973. First showed his work at YIDFF 20 years ago. A Burning Star (1995, New Asian Currents YIDFF '97, Flaherty Film Seminar 2002, etc.) was originally shot using 8mm film—which Onishi has been favoring for a quarter-century. His films Field Feet (2008) and the multi-director Associations of Silverpencils (2011) also screened in New Docs Japan at YIDFF 2009 and 2011, respectively.

Interview