Look Behind!
(Ushiro ni furimuke!)
---
JAPAN / 2017 / Japanese / Color, B&W / 8mm / 45 min

Director, Photography: Murakami Kenji
Producer: Onishi Kenji
Supported by Nakagawa Kyuya, Murakami Daiki, Kanehara Miwa
Source: Murakami Kenji
It all began with this sentence: "The view of the sunset from the window was gorgeous." The film that resulted was shot using Single-8 film, until every cartridge on hand was exhausted. The audio is comprised of the sounds recorded at the time of filming, mixed with cassette tapes played during screenings. The projectionist may also sometimes ask the audience to participate.
---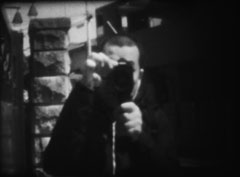 [Director's Statement] Choosing to use the tactile medium of film always makes me more conscious that I'm making "cinema." I often wonder, what is a film? And I wanted to share this feeling with the viewer. Since 8mm projectors are now quite difficult to repair, it could possibly break down before the end. It is precisely this sense of uncertainty, I feel, that characterizes the richness of film culture.

Murakami Kenji
Born in 1970. Directed works include films such as Tel-Club, Zomvideo, and Sound Hunting (winner of the YIDFF 2013 Sky Perfect IDEHA Prize); television programs including The Great Horror Family, Mori Tatsuya's Documentary Tells a Lie, and Eros no yukue kieyuku hihokan; and commercials such as AKB48—So What Was Maeda Atsuko After All? Written works include Love Hotel Collection and Japanese Showa Love Hotel Encyclopedia.

Interview