City Hall
---
USA / 2020 / English / Color / DCP / 274 min

Director, Editing, Sound, Producer: Frederick Wiseman
Photography: John Davey
Assistant Photographer: James Bishop
Sound Editor, Assistant Editor, DIT: Christina Hunt
Sound Mixing: Emmanuel Croset
Digital Color Grading: Gilles Granier
Production Office: Zipporah Films, Inc.
World Sales: The Party Film Sales
From the fall of 2018 to the winter of 2019, Frederick Wiseman turned his camera on the city hall of Boston in Massachusetts, capturing the various activities in which it is engaged. His focus on economic development and other aspects of a multi-ethnic society intricately weaves together scenes that range from the recognition of same-sex marriage and meetings with veterans, to Thanksgiving Day event planning and efforts to prevent farmers' eviction. Wiseman seems to be showing us the Boston city government's activities as an example of what should serve as a model of democracy. Together with a memorable speech from Mayor Marty Walsh, the film presents a counterpoint to the idea that America has been fragmented by politics.
---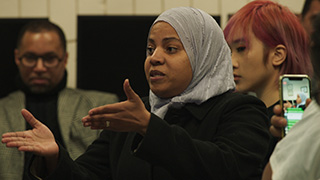 [Director's Statement] I made City Hall to illustrate why government is necessary for people to successfully live together. City Hall shows a city government offering a wide variety of important and necessary services to a major American city whose population exemplifies the history of diversity of America. The Boston city government is designed and strives to offer these services in a manner consistent with the Constitution and democratic norms.
Boston's city government is the opposite of what Trump stands for.
Frederick Wiseman
Documentary filmmaker, born in 1930, in Boston. Has never used interviews, narration or additional music in his films, which include Titicut Follies (1967), Welfare (1975), Model (1980, YIDFF '91), Zoo (1993, YIDFF '93 Mayor's Prize), La Comédie-Française ou l'amour joué (1996, YIDFF '97 Special Prize), Belfast, Maine (1999, YIDFF '99 Mayor's Prize), Domestic Violence (2001, YIDFF 2001), Domestic Violence 2 (2002, YIDFF 2003), Ex Libris—The New York Public Library (2016, YIDFF 2017), and Monrovia, Indiana (2018, YIDFF 2019). He has directed one fiction film, The Last Letter (2002).