Self-Portrait: Fairy Tale in 47KM
---
CHINA / 2021 / Chinese (Hubei Dialect) / Color / DCP / 109 min

Director, Editing, Sound, Producer: Zhang Mengqi
Photography: Zhang Mengqi, Fang Hong, Ding Qixuan
Appearances: Fang Hong, Ding Qixuan, Lei Jinting
Production Company: Caochangdi Workstation
Source: Zhang Mengqi
The newest installment in a series called 47 KM, set in a small village in a mountainous region in China. In the winter marking ten years since the director started filming, a new building is about to be constructed in the village. The children dream up and draw pictures of what this "blue house" should look like. The girls, who had thus far been the subject of the director's films, take up the camera themselves, and begin recording scenes of their own village. Accordingly, the director who had stood behind the camera until that point becomes a part of the village landscape, together with the new house that she builds.
---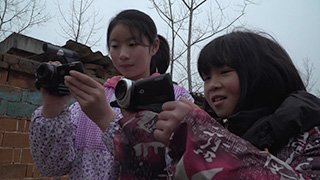 [Director's Statement] This is the ninth film in my 47 KM series.
In 2019, I spent my tenth winter in 47 KM village. On one of the village's hills, a new space is coming into being, from children's drawing paper to the solid ground, from a fairy tale to reality. Why did I name this film Fairy Tale? Why do we need fairy tales?
In 2020 when I started editing this film, it was a special year. It seemed to me to be a reboot, a reconfirmation of the present and the future.

Zhang Mengqi
Born in 1987. Since 2009, she has been a resident filmmaker and choreographer at Caochangdi Workstation in Beijing. A founding member of the Folk Memory Project. Mengqi has made nine feature-length documentaries filmed in her father's village in Hubei Province, known as her "Self-Portrait" series. Her films have been selected by Yamagata International Documentary Film Festival, Cinéma du Réel, Visions du Réel, RIDM etc. Self-Portrait: Sphinx in 47 KM (2017, YIDFF 2019) won the DMZ International Documentary Film Festival White Goose Award. Her choreographic work has been performed in Rencontres Chorégraphiques Internationales de Seine-Saint-Denis (France), ImPuls Tanz (Austria), Eurokaz (Croatia), and Künstlerhaus Mousonturm (Germany).