Young Solitude
Premières Solitudes
---
FRANCE / 2018 / French / Color / DCP / 100 min

Director, Cinematography, Screenplay: Claire Simon
Editing: Claire Simon, Léa Masson, Luc Forveille
Sound: Virgile Van Ginneken, Nathalie Vidal
Sound Design: Pierre Bompy, Elias Boughedir
Appearance: Tessa, Anais, Catia, Manon, Elia, Hugo, Clement
Producers: Michel Zana, Sophie Dulac, Aurelien Py, Lazare Gousseau
Production: Sophie Dulac Productions, Carthage Films
Teenagers attending Romain Rolland high school in Ivry-sur-Seine in the Paris suburbs, interviewed in pairs and small groups, describe their home environments and their relationships with their parents, their first loves and their dreams for the future. We witness their feelings of isolation, and then their experience of being able to share their situations with others. The camera draws out their feelings, their insecurities and aspirations, their sadness and passion. Originally, the idea was to make a short film with high school students in a workshop format, but Claire Simon changed plans along the way and a feature documentary resulted. "There are both good and bad things about being alone. We search, and we discuss." (Claire Simon)
Claire Simon
Born in London, 1955. Originally studying folklore, and the Arabic and Berber languages, she is self-taught in film production. After she completed several short films, her first dramatic feature, A Foreign Body (1997), became an official Directors' Fortnight selection at the Cannes Film Festival. She has produced numerous documentary films while also teaching at FEMIS and the University of Paris VIII. Titles include Human Geography (2013), The Woods Dreams Are Made of (2016), and The Competition (2016). Her latest film I Want to Talk about Duras (2021), which portrays the relationship between Marguerite Duras and Yann Andréa, was screened in competition at the San Sebastian Film Festival.
---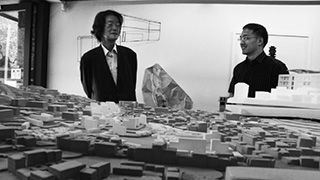 Talking Architect
---
KOREA / 2011 / Korean / Color / Digital File / 95 min

Director: Jeong Jae-eun
Photography: Kim Hyeong-ju Editing: Park Yoo-kyung Sound: Jeong Ji-young Music: Kang Min-kook Appearance: Chung Gu-yon, Seung Hyo-sang, Yoo Kerl Producers: Ahn Dong-Kyu, Han Sun-hee, Kim Min-sung
World Sales: M-LINE Distribution
Architect Jung Ki-yong (1943–2011) is diagnosed with colon cancer yet still pushes on with both his exhibition on architecture at the Ilmin Museum of Art and his teaching of prospective architects. His main concerns are the public value and ethics of architecture, and he leads by example in showing whom it is architects should be working for, and what kind of tool architecture should be in society. Architecture is not an object of worship to him, as he knows its limits. Though tireless in his work and conversations with people, he barely has any time left.

Jeong Jae-eun
Born in Seoul, 1969. In the first graduating class of the School of Film, TV and Multimedia of the Korea National University of Arts. Upon getting her diploma she began making her own short films. Her 2001 feature film, Take Care of My Cat, depicts the friendship and coming into adulthood of four women in their early twenties. The film was screened at film festivals around the world, winning many awards not only for the director, but also Bae Donna and the other starring actresses. In recent years, in addition to the Japan-Korea co-production Butterfly Sleep (2017), taking an interest in urban space and environment she has made a trilogy of construction documentaries; Talking Architect, Talking Architecture, City: Hall (2013) and Ecology in Concrete (2017). Presently in production on her next documentary, Cat's Apartment.
---
Beyond the Language
(Gengo no muko ni aru mono)
---

New Asian Currents