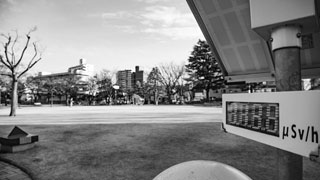 FUKUSHIMA: The silent voices
---
FRANCE / 2017 / Japanese, French / Color / DVD / 58 min

Directors: Sato Chiho, Lucas Rue
Photography, Sound: Lucas Rue
Editing: Sato Chiho
Source: Nautéin Prod
www.nauteinprod.com
The stark contrast between the known Fukushima of home and the "Fukushima" presented on the news in France. Dad says, "It'll be alright, don't worry," but as the days and months go by, all that's left between family members seeking to restore their normal lives are words that can't be said and things that can't be asked. In order to break that silence, family must be confronted.
---
Life—Another Story of Fukushima
(Life Ikiteyuku)
---
JAPAN / 2017 / Japanese / Color / DVD / 115 min

Director, Photography, Editing: Kasai Chiaki
Music: Steve Pottinger
Source: Rain field Production
www.rainfield.jp
In the areas affected by the tsunami, there are those who still remain missing. Minamisoma is a city in Fukushima Prefecture, located within 30km of the Fukushima Daiichi Nuclear Power Plant. Adding to the horror of the nuclear power plant disaster, many lives were also taken by the tsunami. What goes through the minds of parents and immediate family members as they continue to search for loved ones with their own hands?
---
Nuclear Cattle
(International Version)
(Hibaku-ushi to ikiru)
---
JAPAN / 2016 / Japanese / Color / Blu-ray / 98 min

Director, Editing: Matsubara Tamotsu
Photography: Nagi Masanori
Music: Wong Wing Tsan
Sound Editor: Yoshida Ichiro
Producer: Shiba Takeshi
Production Company: Power I, Inc.
World Sales: Uzumasa, Inc.
www.power-i.ne.jp/hibakuushi/
Many dairy farmers live with cattle exposed to radiation as a result of the Fukushima Daiichi Nuclear Power Plant Disaster, while some choose to take their cows' lives. Although we may have often heard such reports in the media and other places, in fact there is a great deal more to the story than we realize. It took five years of close observation to understand what it really means to live with nuclear cattle.

Interview