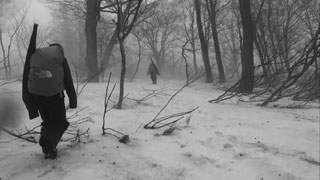 Oguni Matagi
(Oguni haru-kuma-ryo 2016)
---
JAPAN / 2016 / Japanese / Color / Blu-ray / 124 min

Director, Photography, Editing: Hayashi Gohei
Supported by: The Center for Remembering 3.11 (Sendai Mediatheque)
Source: Kanran-sha
While the earthquake and tsunami did not affect Yamagata directly, the problem of nuclear contamination following the nuclear disaster resulted in a restriction on the transport of bears across the entire prefecture (although the restriction was lifted this year). There were also voluntary bans on bear soup at various regional festivals. Researchers took up their cameras to investigate the situation across Oguni, filming bears and the matagi (hunters) sustaining their traditions among the mountainous regions of Tohoku.
---
Dear Monster—Poet and the Disaster
(Kaibutsukun Shijin Yoshimasu Gozo to shinsai)
---
JAPAN / 2016 / Japanese / Color / Blu-ray / 60 min

Director, Editing: Ito Ken
Photography: Natsuumi Kozo, Mizuno Hiroshige
Editing: Ikeda Satoshi
Producer: Terashima Takayuki
Production Company, Source: Telecom Staff, Inc.
Yoshimasu Gozo is a prolific and highly acclaimed Japanese poet. He has travelled often to the northeast following the 2011 Great East Japan Earthquake. In his poetry collection, Dear Monster (2016), he spoke about his own experiences and created a new style of poetry that was markedly different from the one he had used for fifty years. This work captures the verses as they are born, with their voices, sounds, and written characters.

Interview
---
The People Living in Hadenya
(Hadenya ni ikiru hitobito)
---
JAPAN / 2014 / Japanese / Color / Blu-ray / 135 min

Director, Photography, Editing: Agatsuma Kazuki
Source: Peace Tree Products
hadenyaniikiru.wixsite.com/peacetree/
Hadenya is a fishing village in Miyagi Prefecture's Minamisanriku. The director's fascination with its intersection of nature and history led him to film there steadily until, strangely enough, the day of his film's preview coincided with the disaster. This work and the director's documentary, Tremorings of Hope (p.28), shown in the International Competition this year, invite us to contemplate the meaning of "Cinema with Us."
* Theatrically-released version of the same-titled film that was shown at YIDFF 2013