New Asian Currents
---
CHINA

CHINA, SINGAPORE

HONG KONG

INDIA

INDONESIA

IRAN

JAPAN

KOREA

LEBANON

LEBANON, GERMANY

LEBANON, UAE

THE PHILIPPINES

TAIWAN

TAIWAN, MYANMAR

USA, THE PHILIPPINES

---

New Asian Currents Special Invitation Films



CHINA

INDONESIA
---
---
New Asian Currents Special Screening and Exhibition
---
When a Dream Begins
My father, diagnosed with early-onset Alzheimer's disease at the age of fifty-five, lives his life gradually losing what we generally recognize as memory—in fact a part of the hippocampus, the coordinator of memories in brain. We always wonder what he's thinking. My mother, the closest person to him, is certainly forever thinking as they live together, guessing at what he wants to do, and building on her guesses. Whereas when my sister and I go to visit, as we fumble about for the correct interpretation, we make selfish presumptions about what he wants or should be doing. Sometimes I wonder that he might even understand everything and is actually expressing his opinion about it, only we just don't notice. There is no way to know.
One's memory and the personal recollections that make it up are not exact. What entered your brain as memories never match what accumulates inside your brain, which differs from what you retrieve, as well as from the subsequent re-engraving in your brain. And the first time I see a film, my experience of it is different from when I happen to think of a scene from it as I walk down the street, or from how I feel about it when I'm writing the synopsis for this catalog. I watch a film, and the story I imagine surrounds the film enters my mind for the first time, my guesses that lead to such a story build and build, and I store my own personal experience of the film in my body. Sometimes you feel like you've entered the mind of one of the characters—and therefore that of the filmmaker—and even occasionally get butterflies in your stomach like you've glimpsed something too intimate. What is certain is that the anger, love, sorrow, or confusion of the filmmaker surfaces on the screen—through the gaze of the filmmaker—it's unavoidable, numerous stories that the filmmakers themselves let slip are born into the world. As they, even while knowing a certain "something" doesn't exist, still try to reel in its hints.
Filmmakers, viewers, my father, my mother and I are all spinners of a story that goes on without end, using pieces of certain memories as our hints. The story—a dream on the other side of memory—of course has no beginning or end, and courses along on the waves of an ocean without end. The film festival and the New Asian Currents program might be the crossroads of the journey or they might be the lighthouse that illuminates it. We take each story in hand, and another dream begins.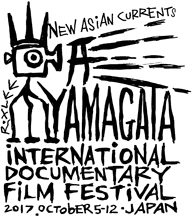 The New Asian Currents program this year has a special screening and exhibition featuring Roxlee—and his spirit—who have dwelt at YIDFF since 1989; sometimes coming in person, sometimes designing festival T-shirts or title rolls, sometimes having a comic serialized in the Daily Bulletin. In the exhibition, works of Roxlee's kept by YIDFF staff members and his friends in their homes will temporarily leave where they reside and congregate, together with pieces of memories. Whether you are coming to the festival for the first time or have attended many times in the past, you are likely to have crossed paths with or seen his work in this place or that.
I would like to take this opportunity to express my appreciation to all the filmmakers who submitted to the festival and to everyone who has supported it in so many different ways from the preparation stage. I would also like to send my love to the filmmakers who cannot join us due to traveling difficulties, and to our viewers who now get to see the films.