[CHINA, SINGAPORE]
Caro Mio Ben (My Dear Beloved)
---
CHINA, SINGAPORE / 2017 / Chinese, Chinese Sign Language / Color / Blu-ray / 118 min

Directors: Su Qing, Mina
Photography: Su Qing, Zhang Qin, Mina, Du Jianbin, Chen Jiao
Editing: Guo Xiaodong, Mina
Sound: Su Qing, Zhang Qin
Music: Wang Yiwen
Producer: Guo Xiaodong
Production Company, Source: Levo Films Pte Ltd.

This film depicts daily life at a school for students with hearing and vision disabilities in Zhengzhou, Henan Province. As these girls deal with their everyday teen problems at school, they express themselves in sign language, movement, and the beautiful song Caro Mio Ben, conveying their rebelliousness against the teachers, their feelings for a beloved turtle, their anxieties about the future, and their anger at the unfair gods. As if watching over the growth of these girls, the camera carefully captures their words and gestures, staring deep into their vacillating hearts.
---
[Director's Statement] Caro Mio Ben (My Dear Beloved) is a documentary film that pays attention to a special group in society. This time, we focus on a special school in Zhengzhou, observe and capture the growth of the children in a long-term process.
It's been more than a decade since we made our first documentary film about deaf people. It has become a part of our life to get acquainted with and make friends with them. Thanks to them, we started a restaurant and employed deaf people in 2008. Nine years have passed since then, and we've already integrated the filmmaking into our own lives. Films about life and our life itself have less and less distinction.
Shooting of Caro Mio Ben (My Dear Beloved) was first started at the end of 2011. We chose to focus on a group of children in a special school. From some people's point of view, these children have physical disability and naturally attract worries and sympathies, but that's not the case for us. What we saw behind the camera was the sparkling eyes and beautiful minds. The strong vitality and willpower of each child is a salute to life, or we can say it could heal and purify the so-called normal person's mind.
The topic of special education in China is still a blank. To reflect the growth of the special children with more attention is a symbol of social progress, as well as the responsibility of us filmmakers. They have a completely different sensory world compared to other children. What we hope to achieve with the film is, through our observation and company, to explore an unknown world with silence and darkness, but meanwhile full of imagination and surprises.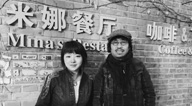 (From the right)
Su Qing
Born in Inner Mongolia, Su Qing currently resides in Beijing. From 1998 to 2002, he worked as a program director at Chongqing Television and China Central Television. He directed the TV series Chinese Folk Art and Chinese Relics, both for international distribution, the documentary series Stories of the Chinese, and the character-based documentary Song of Life, which was nominated for the Chinese TV Starlight Awards. Since 2002, he has been an independent documentary director and producer. His best-known works include White Tower (2004, YIDFF 2005) and Sign Language Time (2010).
---
Mina
Born in Chongqing, Mina currently resides in Beijing as an independent documentary director. She graduated from the Beijing Institute of Clothing Technology with a bachelor's degree in costume design, and received a master's in art management from the Central Academy of Fine Arts. Since 2002, she has worked with Su Qing on documentaries such as White Tower (2004, YIDFF 2005) and Sign Language Time (2010).

Interview