[LEBANON, UAE]
Those Who Remain
---
LEBANON, UAE / 2016 / Arabic / Color / Blu-ray / 95 min

Director, Script, Editing, Producer: Eliane Raheb
Photography: Jocelyne Abi Gebrayel
Sound: Victor Bresse
Production Company, Source: Itar Productions
www.itarproductions.com
In a village in northern Lebanon close to the border with Syria, farmland has been abandoned due to enduring sectarian conflict in the area and the war in Syria. Families of different religions used to live together side by side, but now an exclusionary sentiment is in the air. The film follows Haykal, a man who raises apples and sheep, and runs a restaurant with Ruwaida; at the same time building a house stone by stone so that his wife and children might someday return home. He lives his life as he always has—as if the act of remaining on this land has turned into something of a calling.
---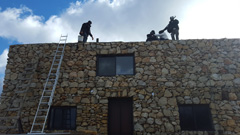 [Director's Statement] Haykal's story is important in the political time being, for he is, as his name indicates, a temple that guards the area where there are geographical and sectarian intersections (between Shiaa's Hermel clearing, the Sunni's Lebanese-Syrian north border and his Christian village). He represents the desire of Christians to stay on their land amidst the prevalence of fear of threats from the extremist currents. Unlike the sectarian people of his Christian village, Haykal "feudal" by working with his hands, and he is rooted as a Christian who lives among Muslims.
Haykal is like a marked temple in the place he resides, that he builds and protects. Those Who Remain contemplates his story as a metaphor for a national situation that simply strives to keep the Christians of the Levant on their land without belonging to sectarian parties, for Haykal's main characteristic is human and not sectarian.

Eliane Raheb
A Lebanese director, Raheb has made two short films, The Last Screening (1996) and Meeting (1997), and the medium-length documentaries So Near Yet So Far (2002), Suicide (2003) and This is Lebanon (2008, YIDFF 2009, Award of Excellence), which was broadcast on ARTE/ZDF, Al Jadeed and NHK. Her first feature documentary, Sleepless Nights (2012) was screened in over fifty film festivals, and won five awards. It was also ranked 5th in Sight and Sound's best documentaries of 2013. Her second feature Those Who Remain (2016) received the Jury award for Features at the Dubai International Film Festival, the Jury award for documentaries at the Ismailia International Film Festival and the Jury award for documentaries at the International Festival of Mediterranean Cinema of Tetouan. Eliane Raheb is also a founding member of the Association for Cinema Beirut DC within which she has directed several documentary workshops and acted as artistic director at its Arab Film Festival Ayam Beirut Al Cinema'iya (Beirut Cinema Days) through six editions of the festival.

Interview