[HONG KONG]
Yellowing
---
HONG KONG / 2016 / Cantonese / Color / Blu-ray / 128 min

Director, Photography: Chan Tze-Woon
Editing: Jean Hu, Chan Tze-Woon
World Sales: Ying E Chi Limited

This film, divided into twenty chapters, is shot from the viewpoint of the young people who participated in the Umbrella Revolution in Hong Kong, a pro-democracy movement that lasted for more than two months, starting in September 2014. It offers a direct window onto the participating students' happiness, anger, sadness, joy, passion, and kindness, through footage of not only their clashes with the police, but also their everyday conversations and interactions with their families. Camera in hand, the director—sometimes fearfully—dives into the space between demonstrators and police, participating in the Umbrella Revolution alongside these youths.
---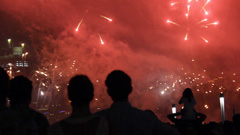 [Director's Statement] On September 26, 2014, when the police advanced, I was pushed in front of the student's defense line. I was not arrested, but squeezed in between the police and the students. In that hour, I got to know the students at the front line, in whom I saw the vision and courage I either never had, or that had already vanished long ago. Later, we experienced the whole Umbrella Movement together.
Twenty years ago, CY Leung condemned the Tiananmen Massacre, while Donald Tsang "passed by" the Concert for Democracy in China. A lot can be altered in twenty years' time. While getting closer to the deadline of an "unchanged fifty years," Hong Kong will face greater difficulties than today. I am not sure if I/they/anyone who has participated in this movement will be able to hold onto our beliefs and remember our initial intentions, therefore I use this documentary as a reminder.

Chan Tze-Woon
After studying policy and administration, Chan Tze-Woon went on to complete a masters degree in film and television at Hong Kong Baptist University. Among his short works, The Aqueous Truth (2013) and Being Rain: Representation and Will (2014) play with a conspiring plot and mockumentary form. He took part in the 2014 Umbrella Revolution with his camera, and two years later made his first feature length documentary, Yellowing, which was nominated for Best Documentary at the Taipei Golden Horse Awards.