Africa Views
In Cooperation with Institut français du Japon
---
• October 6–10 [Venue] Yamagata Museum of Art 1
Though the 21st Century has been extolled as the "African Century," Africa continues to face great challenges. These include a fierce struggle for resources that may be seen as the new "Scramble for Africa," the so-called "fight against terrorism" and the rampant influence of fundamentalism, as well as the outbreak of infectious disease. This program introduces over 20 films created since the year 2000—with a particular focus on the Sub-Saharan region—depicting a contemporary Africa that lets off a considerable racket as it creaks toward progress, and introducing us to the people who live there.
---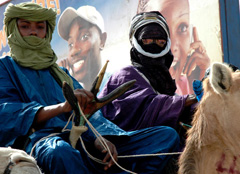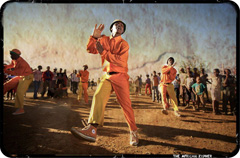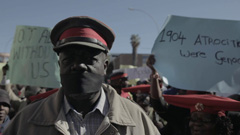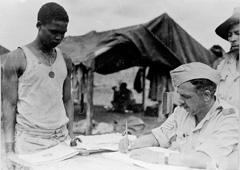 Recent years have seen a sizable surge in documentary work that seeks to reconstruct the image of Africa from an African perspective. The Colonial Misunderstanding (2004) depicts the complicated and problem-ridden relationship between Europe and Africa, seen through the history of missionaries and settlers. The Manuscripts of Timbuktu (2009) reevaluates the historical role of Timbuktu, Mali. A Pair of Boots and a Bicycle (2007) depicts South African black soldiers who were pulled into World War II, under the cause of Black Liberation. Cuba, an African Odyssey (2007) portrays the participation of Cold War-era Cuba in the effort for African Liberation, including its support for Amílcar Cabral and Che Guevara's fighting alongside the Congolese Revolutionary Army. Hidden Heart—The Story of Christian Barnard and Hamilton Naki (2007) exposes the contributions of the African assistant to Christiaan Barnard, hidden in the shadow of the first successful heart transplant operation in 1967, supposedly one of South Africa's greatest achievements.
This program introduces works that approach Africa's challenges from various perspectives. Mogadishu Soldier (2016) illuminates the battleground of the "fight against terrorism" through images recorded by soldiers of the African Standby Force dispatched to Somalia. Skulls of My People (2016) depicts Namibian citizens who seek the return of their ancestors' skulls from Germany, the colonizers who had taken them in the name of science, after a massacre. Beats of the Antonov (2014) portrays the lives of people from the Blue Nile and Nuba of Sudan, who escaped the ravages of war and support themselves through music.
This program also presents works that capture the vibrant groundswell of African cultures from all over the continent. The African Cypher (2012) depicts the identities of youth as represented in street dance. Intore (2014) portrays how a Rwandan society deeply scarred by the 1994 genocide seeks to revive itself through pop music and traditional dance.
In addition to these and other films, this program includes talks by film directors and other guests.
---



Kuxa Kanema: The Birth of Cinema

Dir: Margarida Cardoso / MOZAMBIQUE, PORTUGAL / 2003 / 52 min

•

Oct. 10 10:50
The Colonial Misunderstanding

Dir: Jean-Marie Teno / CAMEROON, FRANCE, GERMANY / 2004 / 76 min

•

Oct. 9 15:10
A Pair of Boots and a Bicycle

Dir: Vincent Moloi / SOUTH AFRICA / 2007 / 80 min

•

Oct. 7 15:40
Cuba, an African Odyssey

Dir: Jihan El Tahri / FRANCE / 2007 / 190 min

•

Oct. 7 18:10
Hidden Heart—The Story of Christian Barnard and Hamilton Naki

Dir: Cristina Karrer, Werner Schweizer / SWITZERLAND, GERMANY, SOUTH AFRICA / 2007 / 97 min

•

Oct. 8 15:20
Motherland

Dir: Owen 'Alik Shahadah / USA, UK / 2010 / 118min

•

Oct. 6 15:30
Nasser: Egypt's Modern Pharaohs

Dir: Jihan El Tahri / EGYPT, FRANCE, USA, QATAR / 2015 / 97 min

•

Oct. 6 18:20
Independência

Dir: Mario Bastos / ANGOLA / 2015 / 110 min

•

Oct. 6 12:50
Skulls of My People

Dir: Vincent Moloi / SOUTH AFRICA, NAMIBIA / 2016 / 68 min

•

Oct. 8 19:50





Congo River, Beyond Darkness

Dir: Thierry Michel / BELGIUM / 2005 / 116 min

•

Oct. 10 12:40
An African Election

Dir: Jarreth J. Merz, Kevin Merz / GHANA, USA, SWITZERLAND / 2011 / 89 min

•

Oct. 6 10:30
Robert Mugabe . . . What Happened?

Dir: Simon Bright / UK, FRANCE, SOUTH AFRICA / 2011 / 84 min

•

Oct. 9 12:50
The Siren of Faso Fani

Dir: Michel K. Zongo / BURKINA FASO, FRANCE, QATAR / 2014 / 90 min

•

Oct. 10 18:20
Beats of the Antonov

Dir: Hajooj Kuka / SUDAN, SOUTH AFRICA / 2014 / 68 min

•

Oct. 8 12:50
Mogadishu Soldier

Dir: Torstein Grude / NORWAY, DENMARK, FINLAND, SOMALIA / 2016 / 84 min

•

Oct. 7 13:00
Return of a President: After the Coup in Madagascar

Dir: Lotte Mik-Meyer / MADAGASCAR, SOUTH AFRICA, FRANCE, DENMARK / 2017 / 78 min

•

Oct. 9 20:00





Cosmic Africa

Dir: Craig Foster, Damon Foster / SOUTH AFRICA / 2002 / 72 min

•

Oct. 10 16:00
Fokofpolisiekar "Forgive Them for They Know Not What They Do"

Dir: Bryan Little / SOUTH AFRICA / 2009 / 108 min

•

Oct. 9 17:20
The Manuscripts of Timbuktu

Dir: Zola Maseko / SOUTH AFRICA / 2009 / 74 min

•

Oct. 7 10:50
The African Cypher

Dir: Bryan Little / SOUTH AFRICA / 2012 / 100 min

•

Oct. 8 17:40
Intore

Dir: Eric Kabera / RWANDA / 2014 / 76 min

•

Oct. 8 10:50
I Shot Bi Kidude

Dir: Andy Jones / UK, TANZANIA / 2015 / 74 min

•

Oct. 9 10:50

---
In connection with the Africa program

Africa Night!

Live DJ show with hot African music by the DJ unit "It's Time For Africa."

[Date] October 8 (Sun) Start: 21:00

(Open: 20:30)


[Venue] Sandinista
[Admission] 2,500 yen

(Adv/Door)

including one drink


(2,000 yen with YIDFF ticket or pass)




* Advance tickets may be purchased at the YIDFF Yamagata or Tokyo office.


[Inquiry] e-mail: yidffafrica@gmail.com

For more information

"Africa Night!" Facebook page