Other Screenings
---
Special Invitation Films
[Venues] Yamagata Central Public Hall 6F ‹YC›, Yamagata Citizens' Hall (Large Hall ‹CL›, Small Hall ‹CS›), Yamagata Museum of Art 2 ‹M2›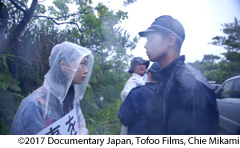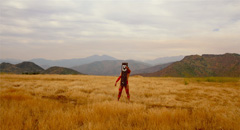 To commemorate the passing of Matsumoto Toshio, who left his mark as a filmmaker, critic, and researcher, and whose work has often been featured at YIDFF, we will be showing Funeral Parade of Roses, the three-projector film For My Crushed Right Eye, in addition to other shorter documentaries and experimental films. The Power of Expression: The Minamata Producer Speaks, the closing film of the festival, reveals the work of the late Takagi Ryutaro, producer of many documentaries such as the Minamata series by director Tsuchimoto Noriaki. The Targeted Island: A Shield Against Storms was directed by Mikami Chie, who continues to direct her gaze at present-day Okinawa, exposing the truth of what takes place on the front line. Alpine Fire is the chef-d'oeuvre of Fredi Murer, who is featured at YIDFF 2017 and who enjoyed a friendly association with Ogawa Shinsuke. Stealing Rodin will be given a special screening as part of a joint program with the International Documentary Film Festival of Santiago.
Opening Films




Other Special Invitations




Special Joint Screening with Santiago International Documentary Film Festival
---
YIDFF Network Special Screening
• October 10 [Venue] Forum 5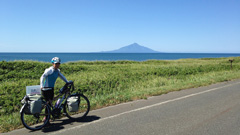 The YIDFF Network is a volunteer group that was brought together for the inaugural YIDFF in 1989, as an initiative of Ogawa Shinsuke. Since that time, the group has continued to be active on a wide range of levels. YIDFF Network Special Screenings are organized for each Festival, with the intention of presenting films from the volunteers' original perspectives.
Start Line

Dir: Imamura Ayako / JAPAN / 2016 / 112 min

•

Oct. 10 19:00

---
YIDFF x Tongari Bldg.
[Venue] Tongari Bldg. (1F KUGURU)
•

October 6 (Fri), 7 (Sat)

Yamagata Rough Cut!




•

October 7 (Sat) –9 (Mon)

Ten Trips Around the Sun: Sato Makoto's Documentary Horizon Today (Discussions)




•

October 8 (Sun)

Performance: Faces (Yamagata Special Edition)




•

October 5 (Thu) –12 (Thu)

Photo exhibition: Cinema Street / Watanabe Ani