Festival Venues
---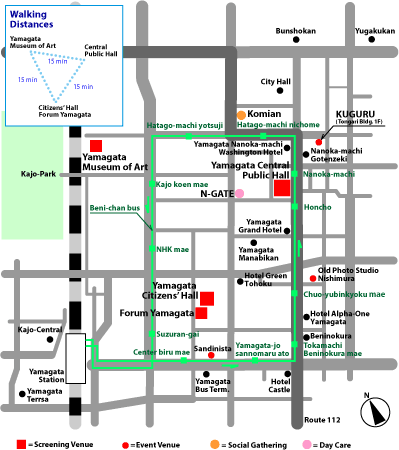 Access to Yamagata City
| | | |
| --- | --- | --- |
| Yamagata Central Public Hall 6F | 600 seats | Opening Ceremony, International Competition, Juror's Films, Special Invitation Films, Awards Ceremony, Awards Film Screening, and more |
| Yamagata Citizens'Hall (Large Hall) | 1,202 seats | International Competition, Juror's Films, Awards Film Screening, and more |
| Yamagata Citizens'Hall (Small Hall) | 300 seats | Fredi M. Murer Retrospective, Politics and Film: Palestine and Lebanon 70s–80s, Special Invitation Films, Juror's Films |
| Forum 5 | 200 seats | New Asian Currents, Juror's Films, Yamagata and Film, YIDFF Network Special Screening |
| Forum 3 | 162 seats | New Asian Currents, New Asian Currents Special Invitation Films |
| Forum 4 | 98 seats | Perspectives Japan, New Asian Currents Special Invitation Films, Yamagata and Film |
| Yamagata Museum of Art 1 | 150 seats | Africa Views |
| Yamagata Museum of Art 2 | 150 seats | Yamagata and Film, Cinema with Us, Special Invitation Films |
| Yamagata Museum of Art 5 (3F) | 150 seats | Cinema with Us |
| KUGURU (Tongari Bldg. 1F) | 40 seats | Yamagata and Film, Yamagata Rough Cut! |
| Old Photo Studio Nishimura | -- | Roxlee's Yakata |
| Sandinista | -- | Africa Night! |
| Yamagata Manabikan | -- | Yamagata and Film |
Yamagata Central Public Hall, Yamagata Citizens' Hall, Forum Yamagata, Yamagata Museum of Art, Yamagata Manabikan and Bunshokan are equipped with handicapped-accessible restrooms. Those accompanying audience members carrying a certificate of physical or mental disability (shogaisha techo or ryoiku techo) may purchase same day tickets at the advance price of ¥1,100.
Festival-goers attending screenings at Forum Yamagata can use the cinema parking lot for up to 4 hours for 200 yen.
---
Information Desk

Your gateway to the festival at Yamagata Central Public Hall (the AZ building) main entrance and Yamagata Station: Get all the information you need in one place.
---
Komian Club

A gathering place for festival guests and fans. This traditional Japanese restaurant in a renovated kura building will be the spot to socialize during festival evenings. All are welcome!

[Date] October 6 (Fri)–11 (Wed) 22:00–2:00
[Place] Komian Maruhachi
[Admission] 500 yen (includes one drink and snacks)
---
Day Care Information

[Childcare Availability] October 6 (Fri)–11 (Wed) 9:00–16:30
[Place] N-GATE 1F
[Cost] 500 yen for the first hour, 250 yen for each additional half-hour (Limit: 7 and a half hours on October 6, 10–11; 4 hours on October 7–9)
[Ages] 6 months to preschool (6 years)



Advance registration and reservation are required. Contact us for details.
Kosodate-Land Ahbe Phone: 023-615-1930
Present your Kosodate-Land Ahbe member cards at the Film Festival site Reception Desk. Advanced reservations required.