YIDFF Network Special Screening
---
---
The YIDFF Network is a volunteer group that was brought together for the inaugural YIDFF in 1989 at the initiative of filmmaker Ogawa Shinsuke. Since that time, the group has continued to be active on a wide range of levels, including organizing Friday Theater, a series of screenings designed for the general public. Some volunteers have been involved in the selection process for the International Competition as well as past New Asian Currents and Japanese Panorama programs. They also undertake tasks during the festival, including reporting for, editing, and publishing the Daily Bulletin, as well as videotaping and photographing the proceedings. Recent years have seen growing involvement from students and those living outside Yamagata. YIDFF Network Special Screenings are organized for each festival with the intention of presenting films reflecting the volunteers' own perspectives. The work we will screen at this year's festival is by a director familiar to YIDFF.
---
Dryads in a Snow Valley
(Kaze no hamon)
---
JAPAN / 2015 / Japanese / Color / Blu-ray / 99 min

Director: Kobayashi Shigeru
Producers: Yatabe Yoshihiko, Nagakura Norio
Photography: Matsune Hirotaka
Sound: Kawakami Takuya
Sound Design: Kikuchi Nobuyuki
Editing: Hata Takeshi
Contributing Editor: Yamazaki Yoichi
Office Coordinators: Meguro Shuhei, Kobayashi Mahito
Music: Amano Tokiko
Production Company: Kasama Film
World Sales: TOFOO, LLC. www.tongpoo-films.jp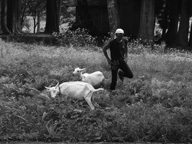 Ten years ago, the Kogures moved from Tokyo to the satoyama (an area where traditional sustainable agriculture has long been practiced) in a snowy mountain village in Echigo-Tsumari where they repaired an old thatched farmhouse and began growing organic, pesticide-free rice. Their life may appear unrestrained and free of worldly cares but they cannot make it alone. All the work is done together with their cheerful neighbors. Then, in the spring of 2011, an earthquake strikes on the border of Nagano and Niigata prefectures. The Kogures' house is destroyed, but they decide to rebuild. An adventure told in a fantastical tone that expresses the joy of co-existing with a sometimes harsh natural world.
---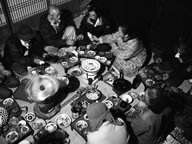 [Director's Statement] In 2007, the director Sato Makoto, with whom I worked on Living on the River Agano and Memories of Agano, died suddenly. Crippled by an immense sense of loss and already living on dialysis, I gave up making films. One day, I visited a friend who had moved to the mountains. The instant I saw the summer vegetation bathed in rays of light, my youth flashed before my eyes. I began to hope that perhaps here I would be able to make a film. It took five years to complete but I believe this film kept me alive.

Kobayashi Shigeru
Born 1954 in Niigata Prefecture, Kobayashi Shigeru received the 1st Japanese Society of Cinematographers Award for his work on Living on the River Agano (1992, Dir. Sato Makoto). His directorial credits include Children in the Cosmos (2000), A Patch of Blue Sky (2001, YIDFF 2001), And Life Goes On (2004, YIDFF 2005), Chokora! (2008, YIDFF 2011).

Interview