[MEXICO, THE PHILIPPINES, ARGENTINA, KOREA]
The Still Side
El Lado Quieto
---
MEXICO, THE PHILIPPINES, ARGENTINA, KOREA / 2021 / English, Spanish / Color / DCP / 70 min

Directors, Script, Editing: Miko Revereza, Carolina Fusilier
Photography: Miko Revereza, Carolina Fusilier
Sound: Miko Revereza, Mateo Fusilier, Carolina Fusilier
Sound Design: Miko Revereza
Source, Production: Arquitectura Parlante
An island off the coast of Mexico that once bustled with activity as a resort destination, now deserted and in ruins. A legendary creature known as the Siyokoy has just swam to its shores from faraway Manila, and it has visions of the island in its prime, awakening the sounds of the voices that once resounded here. This island, which has existed since ancient times, exposes mass consumer culture with its ephemeral cravings. How does it look to the eye of this new drifter? The sea, forests, and man-made relics all lie silently in wait for their next visitor.
---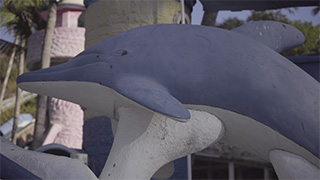 [Director's Statement] What is left in when there are no more people? The original sounds of the construction materials remain, the acoustics, any other sign of life can be heard in these spaces . . . including microscopic life such as the termites that are eating the wood, the system of pipes through which a place breathes and is oxygenated.
The sound like a conduit of living ghosts. Sound as a way of re-visiting spaces from the foundations of its materials. The living spaces are uniquely designed to contain human lives and their domestic needs. But what happens when this is absent? Sound emerges and inhabits, it is corporeal, it is as vivid as a body that transits these spaces.
The loudspeaker as voices of conscience. The voices of the neoliberal empire: Ghosts that continue to circulate with false promises. The psyche of our generation is built on false promises of progress . . . the ghosts are still alive even though what we see is a great ruin.
They come to impose an order: the order of the propaganda that promises, the order of the promise of the future. The order of a reality that no longer exists but remains to respond to the desire of the conscience. The voices remain, the bodies do not.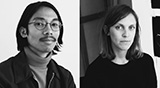 Miko Revereza
(left)
Born 1988, Manila. Resides between the Philippines and Mexico. Raised as an undocumented immigrant, his current exile from the US informs his relationship with moving images. Droga! (2014, YIDFF 2017), Disintegration 93–96 (2017, YIDFF 2017), No Data Plan (2018, YIDFF 2019) and Distancing (2019) showed at Locarno Film Festival and International Film Festival Rotterdam. Holds an MFA from Bard College. 2019 Flaherty Seminar filmmaker and 2021 Vilcek Prize recipient.
Carolina Fusilier
(right)
Born 1985, Buenos Aires. Multidisciplinary artist exploring the notions of future in relation to natural landscape. Pollock-Krasner Foundation and Jumex Foundation grant recipient. Exhibited in the New York's Drawing Center (New York), Sculpture Center (New York), Locust Projects (Miami, USA) and Natalia Hug Gallery (Germany). Studied at Argentina's Universidad del Cine (Film and Animation), Düsseldorf Academy, Soma (Mexico), and Universidad Torcuato Di Tella.