[TAIWAN]
Dorm
Ký Túc Xá
---
TAIWAN / 2021 / Vietnamese / Color / Digital File / 54 min

Director, Editing: So Yo-hen
Script: All the participants
Photography: So Yo-hen, Tien Zong-yuan, Chiang Chung-lun
Sound: Tien Zong-yuan, Liao Fei-chao
Music: Liu Fang-yi
Sound Mix: Nigel Brown
Production Design: Tien Zong-yuan, Liao Hsiu-hui, Tsai Pou-ching, Chen Yi-ru
Producer: Liao Hsiu-hui
Co-producer: Trần Thị Bích Trang
Source, World Sales: Your Bros. Filmmaking Group
A dormitory in Taiwan, where female Vietnamese workers live. In this narrow space with no privacy, crowded with bunk beds, women sleep and eat together. In this other-worldly space packed with suitcases, clothes and belongings, the women speak in hushed voices about low wages, hard labor, and poor living conditions. Using performance to recreate stories based on actual events, such as harassment at the workplace and preparing placards for a strike, the film culminates in a unique upheaval. A film born out of a workshop for migrant workers, continuing from the director's preceding film, Hut (2018, YIDFF 2019).
---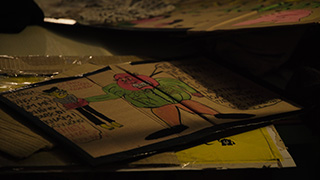 [Director's Statement] This film reinterprets the live stream of a strike as theatre. If we think about irregular circumstances in a regular, everyday space, then we break away from our own time and space, just for a little while. In the breath-stealing and laugh-inducing time of a strike, the women develop small incidents different from the main theme of resistance. In that completely deadlocked space, individual gazes merge together, and each expectation of rebellion or meaningless fabrication comes to light.
We built a dorm on set, and put together lives, jobs, and roles from different regions, developing the stories lodged in each other. Much like playing house when we were children, we enjoyed ourselves while creating each episode, and accordingly, we kept moving away from the starting "place." As the workshops went on, the film's story itself came to be colored by life.

So Yo-hen
Born in 1982 Tainan, Taiwan. His work often addresses the underrepresented in society, culture and history, and the possibilities of empowerment through whimsy. He, architect Tien Zong-yuan, and art history researcher Liao Hsiu-hui form an informal filmmaking group, Your Bros., and take filmmaking as a method, re-interpreting reality, endowing it with an aesthetic form, and transforming into a medium of thinking.