[TAIWAN]
The Lucky Woman
---
TAIWAN / 2020 / Chinese / Color / Digital File / 87 min

Director, Photography, Editing: Tseng Wen-chen
Photography: Wang Ying-shun
Editing: Liu Yue-xing
Sound: Aviec Hsia
Music: Lin Kuei-ju
Animation: Chen Wan-ju
Source, World Sales: Shine Pictures
The film follows Vietnamese men and women who left their home country to work in Taiwan. Escaping from the harsh treatment and lack of medical insurance in their previous jobs, they live their lives as illegal residents hiding in plain sight. We meet Thao Van who has worked in a Chinese restaurant, in a construction site, and as a care worker twice, once for an elderly client and once for a cancer patient. We also meet Tran Duy Hung, a painter, a voice for the experiences of many runaway workers, and a demonstrator in protests against the government. The film depicts traffic accidents and illnesses—the death that plagues these individuals' lives. Both Van and Hung turn themselves in to the police and end up being forced to return home. Van had lived in Taiwan for 4094 days.
---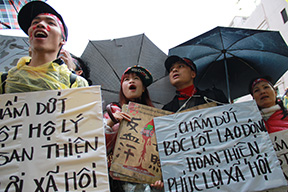 [Director's Statement] When filming these migrant workers, I have a sense of familiarity. Like my parents, they come to work in a foreign country with incredible courage and an adventurous spirit. They strive so hard to build a better future for their family and children.

Tseng Wen-chen
Tseng Wen-chen is a filmmaker who has spent years documenting the stories of disadvantaged groups. Currently, she is making a film about migrant workers. Her works include Fishing Luck (2005), Spring: The Story of Hsu Chin-Yu (2002, YIDFF 2009 Special Invitation) and Love before Sunset (2019).