A Syrian Love Story
---
UK / 2015 / English / Color / Blu-ray / 80 min

Director, Photography: Sean McAllister
Editing: Johnny Burke, Matthew Scholes
Producers: Elhum Shakerifar, Sean McAllister
Source: A 10Ft Films Production for BFI and BBC

Palestinian activist Amer and Syrian activist Raghda married following their release from prison, where they had fallen in love. But by the time the director meets Amer in Syria, after being invited there as part of a government publicity campaign, Raghda is in prison once again. She is eventually freed, but is unable to adapt to the ordinary life that awaits her, becoming engrossed in revolution. The director becomes embedded in the family's life, and follows the love story as it unfolds over a span of five years.
---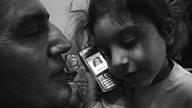 [Director's Statement] I first visited Syria in 2009. "Reformer" Assad seemed beloved, but was this adoration or fear? Amer and Raghda were initially untrusting, but I got closer the longer I stayed. This became difficult as their relationship really faltered. It takes years until people don't just act out their lives in front of your camera, but use you and a projected audience to help comprehend the world they find themselves in. It became as if they had stepped into the film. I feel proud and happy for this beautiful family, and honored that they gave so much—it is the most special film I have made in my career.

Sean McAllister
McAllister left school at sixteen, working in factories before filming his way into the National Film School. His intimate and frank films portray people all over the globe, struggling and yet surviving, trying to fathom political and personal conflict. His films include Working for the Enemy (1997), The Minders (1998), Settlers (2000), The Liberace of Baghdad (2004), Japan: A Story of Love and Hate (2008, Special Prize and Citizens' Prize at YIDFF 2009), and The Reluctant Revolutionary (2012, screened at YIDFF 2013).