Um Ghayeb: Mother of the Unborn
---
EGYPT, UAE / 2014 / Arabic / Color / Blu-ray / 84 min

Director: Nadine Salib
Photography: Sara Yahia
Editing: Micheal Youssef
Sound Design: Abdelrahman Mahmoud
Producer: Maartje Alders
Source: Hassala Films

In a village in southern Egypt inhabited by many grave keepers, Hanan is called Um Ghayeb, or "mother of the unborn." In attempting to conceive, she tries everything from witchcraft to surgery, and searches for the meaning of her role in the community. Hanan's views toward life and death offer a commentary on gender politics, and on what it means to lead a life rooted firmly in the land.
---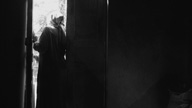 [Director's Statement] The stories of Upper Egypt are a hidden treasure, most of them related to death and fertility. The region feels like a big fairytale, but the earth also so thin that if you scratched a little, the essence of life would burst out. Um Ghayeb ("Mother of the Unborn") waits for her absent child. She waits to conceive, but for me, "unborn" is her lost identity. We are put into this world for what reason, and what are we supposed to become? And in the end, does it really matter, when death will inescapably come knocking?

Nadine Salib
Born 1984, in Egypt. In 2012 Nadine directed Fagr (Dawn), which won second prize in the Arab Women Filmmakers competition at the Baghdad International Film Festival, and first prize at the Goethe Independent Film Festival in Egypt. Um Ghayeb premiered at the International Documentary Film Festival Amsterdam in 2014, winning the Peter Wintonick Special Jury Award for First Appearance. It also won the FIPRESCI Award for Best Documentary at the Abu Dhabi Film Festival.