The Unbearable Presence of Asmahan
---
AUSTRIA, QATAR / 2014 / Arabic, English, German / Color, B&W / Blu-ray / 71 min

Director: Azza El-Hassan
Photography: Joerg Burger
Editing: Marek Kralovsky
Producers: Ralph Wieser, David Bohum
Source: Mischief Films

Syrian-born diva Asmahan took Egypt by storm in the 1940s, starring in two movies and singing the legendary hit song Layaly al-Ons fi Vienna (Euphoric Nights in Vienna) before dying in a traffic accident at the young age of twenty-six. The film explores why she has returned to the spotlight since the Arab Spring, and re-examines the gaze directed at the West by the Arab world.
---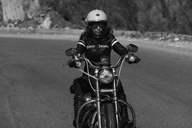 [Director's Statement] The Unbearable Presence of Asmahan is more than a biographical narrative of Asmahan's life, depicting her problematic relationship with the West: although loving the West, she resented its interference in the Arab world. As I grew up in the Middle East and have lived and worked in the West, this project touches me personally. I know many films portraying Western Orientalism in relation to the East; how the West desires, fears, and rejects the Orient. But this film presents an Eastern perspective, examining how the Arab world fantasizes about the West, while simultaneously fighting it and rejecting its interference.

Azza El-Hassan
Azza El-Hassan holds an MA in Television Documentary and a BA in Film and Television Studies and Sociology. Her work has been produced and shown by various international TV networks such as the BBC, Arte, YLE, and ARD. Her films have been shown at Yamagata (Title Deed from Moses, YIDFF '99 and News Time, YIDFF 2001) and at numerous festivals and art venues around the world including the International Documentary Film Festival Amsterdam, and DOK Leipzig.