Walls and People
Des murs et des hommes
---
FRANCE, ALGERIA, MOROCCO / 2014 / Arabic / Color / Blu-ray / 83 min

Director, Photography: Dalila Ennadre
Editing: Véronique Lagoarde-Segot
Sound: Florent Verdet
Producer: Raffaele Ventura
Source: Label Video

In the old medina neighborhood of Casablanca, mothers spend a fortune on goats for Eid al-Adha (the festival of the sacrifice), as children smack their lips in anticipation. Young men lament that their lack of stable employment prevents them from getting married, an old blind resident sells everyday supplies, and young girls discuss their adoration of Europe. The polyphony of voices emerging from the labyrinthine alleyways of the neighborhood is woven into a rich tale.
---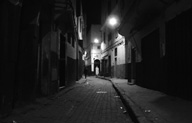 [Director's Statement] I conceive my work as a director to be a powerful means of broadcasting the voices of people only mentioned in statistics and without the opportunity to express themselves. My film is an homage to the medina and its people. It is an opportunity to share a moment at the heart of their daily lives and to listen to them, but above all I invite the audience to join in reflecting on the real possibility of a more just and sustainable world—one concerned with establishing a feasible balance between economic growth and social responsibility.

Dalila Ennadre
Born 1966 in Casablanca. Self-taught, her documentaries often concern human rights. Winner of a Dubai Film Connection award in 2011, and awards at many other festivals around the world. Works include Par la grâce d'Allah (1987), Idols in the Shadow (1992), Desert Wolves (1999), El Batalett (2001), Mé Aïcha's Caravane (2002), Fama, une héroïne sans gloire (2004), Je voudrais vous raconter (2005), I Loved So Much . . . (2008), and Du Cinéma au Possible (2015).